Top Chef Alums Set Sail on Celebrity Cruise Lines
What's better than taking to the open water on a weeklong summer cruise? Taking to the open water on a weeklong summer cruise with some of today's top celebrity chefs providing the eats, that's what. Starting this July, contestants from the hunger-inducing Bravo network reality series Top Chef will be hitting the high seas from different ports around the world. The Top Chefs at Sea celebrity cruise lines aim to provide fans a chance to mingle with their favorite cooks, enjoy the product of their culinary skills and even watch them compete in Quickfire challenges just like on the show. However, this time the chefs can relax and enjoy the prep and bake without the critiquing eye of Top Chef Judges Tom Colicchio, Padma Lakshmi and Gail Simmons. Private cooking lessons will be offered for those interested in a more intimate experience and dishes prepared by the Top Chef contestants will be readily available in the ship's main restaurant.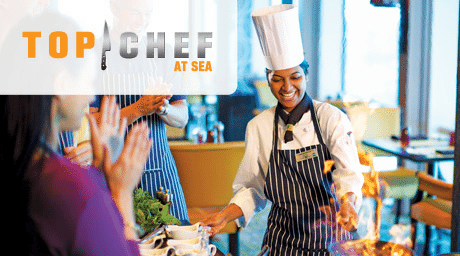 The 1st of the 4 celebrity cruises is the Celebrity Summit which sets out from Cape Liberty, New Jersey for Bermuda on July 27th. Aboard, Spike Mendelsohn, Ash Fulk, and Angelo Sosa will dazzle patrons with their exquisite dishes and hopefully equally impressive sea-legs. As a cheftestant on Top Chef: Season 4 Chicago, Mendelsohn won over the judges with his passion for American comfort food and finished fifth overall in the season. After winning quite a few of the Quickfire challenges, Mendelsohn was asked to make a return appearance on Top Chef: All Stars. His TV appearances coupled with the opening of a third restaurant on Capitol Hill, Bearnaise, have earned Mendelsohn quite the reputation. Also on board the Summit, Top Chef: Season 6 runner-up, Ash Fulk, will awe fellow voyagers with his creative recipes and innovative style. Entirely self-taught, Fulk has honed his skills as Chef de Cuisine for Hill Country Barbecue Market and Trestle on Tenth.
The Celebrity Solstice departs from Seattle, Washington on August 15th, headed for Alaska. On board, Paul Qui, Tiffani Faison, Brooke Williamson and Nina Compton will have to make sure to bring their insulated chef hats to combat the bitter Alaskan chill. An expert in French and Japanese cuisine and executive chef at Uchiko, Paul Qui captivated the audience and judges of Top Chef: Season 9, winning the season title. Qui employs a sense of modernism in his cooking in that he revamps traditional recipes and doesn't adhere to typical ingredient combinations. One of the few cheftestants with prior cruise experience, Tiffani Faison was the Top Chef: Season 1 runner-up and a cheftestant on Top Chef: All-Stars. While not on Top Chef, Faison has been the personal chef to Will Smith and opened a restaurant of her own, Sweet Cheeks Q. With a fascinating blend of fine dining and good old fashioned barbecue, Faison's culinary creations will surely keep patrons warm during the cold Alaskan nights.
The third leg of Top Chef at Sea, the Celebrity Infinity, sets sail toward France and Iberia from England on September 19th. This special voyage will feature appearances by Chris Crary and Kristen Kish, winner of Top Chef: Season 10. Kish's contemporary blend of French and Italian cuisines will leave guests feeling positively buoyant as they sail across the pond. To wrap up the Top Chef at Sea event, the Celebrity Reflection sets sail from Miami, Florida on November 15th with Hosea Rosenberg, Casey Thompson, Tiffany Derry and Shirley Chung on board, headed towards the Eastern Caribbean.
There are several other cruise lines utilizing this same tactic of highlighting their cruises with celebrity chefs including a Norwegian Cruise Lines ship that featured Food Network star Geoffrey Zakarian and the Cake Boss Buddy Valastro. Other chefs such as Guy Fieri and Nobu Matsuhisa have taken a slightly different route to the big oceans by instead simply opening signature restaurants on certain cruise ships. As for the Top Chef cheftestants, adding time spent as a celebrity cruise ship chef and part time sailor to the resume certainly doesn't hurt.
Contact Celebrity Chef Network today for more information or to hire a celebrity chef for cooking demonstrations, endorsements, appearances and cookbook signings. Contact us through our contact form or by email: booking@celebritychefnetwork.com.