On the hierarchy of new cooking competition shows full of big risks and even bigger prizes, Bravo's new show Top Chef Duels may take the crowd, or rather the cake! This series, premiering in August, is upping the tension with head-to-head battles between former Top Chef and Top Chef Masters competitors who have now become some of the hottest names in the culinary world. The competition will culminate in a winner-takes-all prize of $100,000 and a feature in Food and Wine magazine. The series will feature celebrity chef appearances by Kevin Gillespie, Art Smith, Tiffani Faison; Shirley Chung, Kristen Kish, Jennifer Carroll; CJ Jacobson, Stefan Richter, and Richard Blais facing off for the top spot in this new Top Chef spin-off series. Bravo is adding another dimension to the show with the adjunct video series called "The Knockout," in which eliminated chefs will compete to come back on the finale.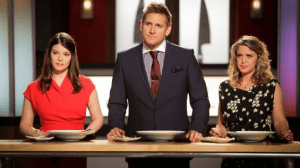 Celebrity chef and soon to be father of two of his second child in September Curtis Stone is on board to host the competition series and the contestants will have a tough panel of judges to impress this season. Gail Simmons and rotating judges Wolfgang Puck and Hugh Acheson will be help sample and judge the dishes created by the contestants however, the chefs have more than just the judging panel to impress. Other food giants like Michelle Bernstein, Andrew Zimmern, Paul Liebrandt, and David Boulud will also be on set to give their input as guest judges. With appearances by so many widely recognized names in the cooking and TV industry, this show is going to mix the perfect amount of celebrity ingredients.
You know the old saying, "Nothing attracts a crowd more like a crowd?" The same thing is true for celebrities. The upcoming show is jam packed with famous guests from musician Pink and actress Shailene Woodley to several prominent members from the cast of Grey's Anatomy, including Sarah Drew, James Pickens Jr. and Kevin McKidd. Also in attendance will be the cast of the Fox comedy TV series Brooklyn Nine-Nine, starring Andy Samberg, Melissa Fumero, Chelsea Peretti and Stephanie Beatriz. Bravo is attempting to broaden their target audience beyond their loyal fans to now include the loyal followings of some of TV's most popular running series. The Food Network competition series Chopped cooked up a similar concept when it used celebrities as participants cooking and competing on the episode entitled The Tournament of Stars.
By featuring so many widely recognized names and faces from a wide spectrum of entertainment categories, Bravo has vastly expanded their demographic and boosted the status of the Top Chef Duels from just another cooking show to a must-see star-studded cook-off. Curiosity is its own form of publicity that feeds off itself, drawing positive attention and many are very curious to see how this new series will play out will so many rumored celebrities and celebrity chefs on the set. Even though it will not premiere until August, the spin-off is already making headlines and garnering visibility from foodies and reality TV show buffs alike.
Bravo isn't merely stuffing the show with a slew of celebrities like a Thanksgiving turkey for the sake of good company, instead these familiar faces serve the same purpose as the Tzatziki sauce on top of a perfectly grilled lamb kabob—they are the extra zest on an already appetizing main dish. The host of experts in the food industry listed above ensures that the series is the real deal for serious foodies while drawing a new crowd of first-time Top Chef viewers. The level of combined expertise as well as the chemistry between all the contestants, judges, and guests is sure to make for some great eats and great TV moments.
For more information on celebrity chef appearances or to hire a celebrity chef for your next corporate event or trade show, please contact Celebrity Chef Network today through our contact form, by email: booking@celebritychefnetwork.com, or call us at 212-410-9879 today.