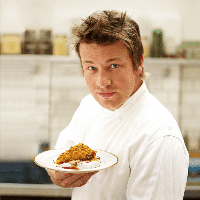 How do I go About Hiring, Booking, finding, contacting or determining Who Represents A Celebrity Chef Like Jamie Oliver?
The confusion of it all, or so it would seem!  When you need a Google or Bing search the most to help you unfortunately you are lead to site after site that looks like Celebrity Chef Alphabet soup!  You're feeling a little burnt like a piece of skirt steak on the BBQ just a few minutes too long?  You are not alone.  You pull up an "expert" that has Hire or Book Mario Batali right next to Find A Hall of Fame Baseball Player?  That would make me concerned.  When you want to Hire or Book A Celebrity Chef you really need an Expert in the field of Celebrity Chefs.  We have heard horror stories.
Remember just because a company bought a Google Ad word or long tail lead such as "Book Guy Fieri for a cooking demonstration", doesn't automatically qualify the person on the other end of the phone or e mail exchange as an expert in anything other than Google SEO marketing!  There are many companies in India that produce results but no Celebrity Chefs!  You need to ask the hard questions and feel comfortable that you know the three (3) staples of Celebrity Chef Corporate Consulting:
What do they do?
Who is doing the work and what do they know?
How and what do they get paid?
Find these things up front and ask for an Agency of Record agreement so they have responsibility to you.  Additionally, ask if they "flip" contracts!  That is how agencies hide their fee.  It's simple.  They have a contract with you but they are signing for the Celebrity Chef.  Than they do the same with the Celebrity Chef where they sign on behalf of your company or client.  So who is it??  Are they representing the company or the Celebrity Chef?  You can't do both!  It's a conflict of interest!  Oldest trick in the book!  One contract with the Celebrity chef and a separate contract with the agency securing the Celebrity Chef so you know how much this transaction is for and the entire commission that is being paid.
When you are trying to find celebrity chefs such as Jamie Oliver, Emeril Lagasse, Rachael Ray, Guy Fieri, Michael Symon, Anthony Bourdain, Rick Bayless, Wolfgang Puck, Bobby Flay or any of the hundreds of elite chefs, just expect a hefty fee but they are worth it because they are magic with a crowd.  We see it over and over again when you hire, book or contract with one of these Iron Chefs, Food Network Chefs, Bravo, Travel Channel or PBS TV stars, you get what you want as Emeril says, Bam!!
Don't be intimidated by the process or the fee because Celebrity Chef Network makes it easy, within budget and always transparent.  That is our guarantee.  No hidden fees, switched contracts or double dipping.  Know who you are working with and their relationship to the celebrity chef market.   The attention to detail is so important when you are hiring or booking a celebrity chef such as Art Smith who worked with Oprah or Darren McGrady the Royal Chef that worked with Prince William and Prince Harry, or William Scheib who was the White House Chef.
Celebrity Chef Network has booked hundreds of Celebrity Chefs for cooking demos or demonstrations, endorsements, pharmaceutical campaigns focused on Celebrity Chefs with medical conditions or diseases, PR programs, licensing opportunities, multi-cultural projects, cookbook signings, trade shows, industry events, special dinners for C level executives and their spouses, corporate events, speaking engagements, women's' shows, bridal events, intimate events at many of the celebrity chef's restaurants.
Celebrity Chef Network has hundreds of chefs in its proprietary database that it can share with you.  So if your event calls for hiring or booking the Southern Belle Paula Dean or her son's Jamie or Bobbie or Iron Chef Morimoto or iconic chef Todd English or maybe a Cajun bash with John Besh or a cooking contest with Robert Irvine or the most elegant event with Gordon Ramsey or maybe you desire a judge from Chopped on Food Network like Amanda Freitag, Marc Murphy, Aaron Sanchez, Geoffrey Zakarian or maybe the great chef Scott Conant but don't forget we can do a Cinco de Mayo event with celebrity chefs Lorena Garcia or Michelle Bernstein or maybe a wine pairing in Seattle or San Francisco with Tom Colicchio, we will make sure that your expectations are met and your guests walk away happy!
Celebrity Chef Network has a combined 15 years of experience booking Celebrity Chefs and making you and/or your clients the focus of our efforts.  We will allocate a senior management team to address your needs, lock in the date and help you design an event that executes so tight you feel like you did it yourself.  Let us provide you our corporate consulting experience and handle every detail!  When your feet are on the fire and need to book or hire a Celebrity Chef in a hurry, we will elevate your opportunity to Code Red!  We will be on the phone with you in 5 MINUTES or sooner.  Just try us, you will see.  Our goal is to build a long term relationship with you so you never have to leave it to the Gods of the search engines again to find your Celebrity Chef!