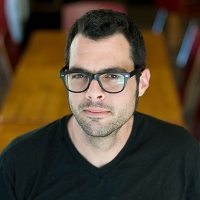 Aaron Franklin
Does Virtual Events:
TV Show: Yes
Cookbook: Yes
Restaurant: Yes
Cuisine: American, BBQ
Fee Range: $10,000 – $20,000

Instrgram Followers: 25,420

TikTok Followers:
Biography:
Celebrity Chef Aaron Franklin is a talented chef and restaurateur specializing in mouth-watering BBQ. You may recognize him as the host of his own cooking show, BBQ with Franklin airing on PBS. Aaron currently owns and operates his own restaurant called Franklin Barbecue in Austin, Texas which has grown into one of the most popular barbecue hotspots in America. Each day the line wraps around the building and the average wait time for a meal is 1-hour. That's right, this top celebrity chef has brisket so good customers will wait an hour just for a plate! Some famous customers who have enjoyed it have included Jimmy Kimmel and President Barack Obama.
Celebrity Chef Speaker Aaron Franklin was named Best Chef: Southwest by the James Beard Foundation in 2015. To this day he is the only chef specializing in BBQ to win the award. After countless hours spent working the pit, he has earned a reputation as one of the top celebrity chefs in the BBQ category. It all began in 2009 when he and his wife Stacy opened up the first location of Franklin Barbecue, a food trailer located just off the interstate in Austin. In just 2 years, they would move to a real brick and mortar location and the restaurant earned a feature on Anthony Bourdain's TV travel series No Reservations in 2012. In 2014, Texas Monthly included Franklin Barbecue on its list of the 50 Best BBQ Joints in the World.
In April of 2015, Celebrity Chef Speaker Aaron Franklin published his first cookbook titled Franklin Barbecue: A Meat Manifesto. The cookbook has been dubbed a definitive resource for the backyard pitmaster, providing readers with a top-to-bottom education on cooking meat and brisket.
In 2016, Celebrity Chef Aaron Franklin has been featured in a number of top industry publications including a recent article in Bon Appetit Magazine describing his affinity for espresso. Aaron has spent a lot of time on the road taking his show of pop-up BBQ pits to food festivals and special events like Feast in Portland and Chicago's 3-day BBQ event hasted by Land and Sea Dept. Studios. This top celebrity chef is also in the planning stages his own food festival which he describes as super DIY with lots of hands-on experiences for attendees. The inaugural date for Aaron's new food festival is set for May of 2017.
He is one of few Celebrity Chef Speakers in the BBQ category available for celebrity chef speaking engagements and other celebrity chef appearances.
Would your organization like to hire a chef for your upcoming event or marketing campaign? Let a qualified celebrity chef booking agent help find the perfect celebrity chef for you! A celebrity chef speaker can create a dynamic event and add energy and excitement to your event. Celebrity chef appearances can consist of a cooking demonstration, personal appearances or a keynote speech.  If you would like to hire celebrity chef Aaron Franklin or are interested in exploring other celebrity chefs please call Celebrity Chef Network at 212-410-9879 or email booking@celebritychefnetwork.com to speak with a celebrity chef agent to discuss top celebrity chefs available for your organization and event.