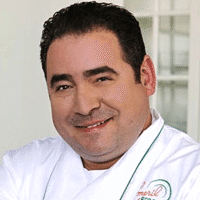 Emeril Lagasse
Does Virtual Events:
TV Show: Yes
Cookbook: Yes
Restaurant: Yes
Cuisine: American, Cajun, Fusion, Italian
Fee Range: $100,000+

Instrgram Followers:

TikTok Followers:
Biography:
If you already know the catch phrase, "Bam!" then you already know about the famous Emeril Lagasse. Often coined as the "first celebrity chef", he was launched to fame with his hit cooking show, "The Essence of Emeril." He quickly followed his show with his first cookbook, "Emeril's New Orleans Cooking." Since then, he's become New York Times Best-Selling Author, having written 12 books over the last 10 years, including his most recent, "Farm to Fork: Cooking Local, Cooking Fresh". In fact, his cooking shows and books have become so popular, that Martha Stewart most recently bought his entire franchise for the sum of $50 million in 2008.
Emeril is an advocate for green energy and sustainable food supply. His endeavors in this field have earned him the James Beard Humanitarian of the Year Award for 2013. He's also been voted "Chef of the Year" by GQ magazine, and has been dubbed one of the "25 most intriguing people" by People Magazine.
As a national TV personality, Emeril Lagasse has hosted more than 2000 shows on the Food Network. He is also the food correspondent for ABC's Good Morning America. He joined Top Chef as a series judge, alongside other well-known celebrity chefs including Padma Lakshmi, Tom Colicchio, Hugh Acheson and Gail Simmons. Emeril Lagasse is currently hosting a show on the Cooking Channel called, "Emeril's Florida". To date, he owns 13 restaurants in 5 cities, including New Orleans, Las Vegas, Miami and Orlando. His most recent openings are "E2: Emeril's Restaurant" in Charlotte, NC, and "Emeril's Italian Table" in Bethlehem, PA.
Cooking demonstrations, endorsements, personal appearances, PR campaigns, speaking engagements, hire, book, we represent, contact, find celebrities, chefs and agents for Emeril Lagasse. If you want to find the representation, PR firm, marketing company, corporate consulting, speaking agent, to book or hire Emeril Lagasse, Celebrity Chef Network is the agency of corporate consulting for your program. Our booking agents are the best in the business for consulting companies, agencies and universities in finding fees, availability and interest for celebrity chefs like Emeril Lagasse for any type of event, appearance, speaking engagement, endorsement, corporate event, motivational speech, PR campaigns, etc. Call Celebrity Chef Network at 212-410-9879 or email booking@celebritychefnetwork.com.  Our booking agents are here to help you hire your Celebrity Chef now.