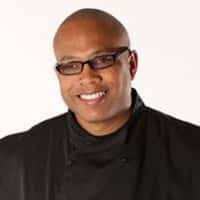 Jeff Henderson
Does Virtual Events:
TV Show: Yes
Cookbook: Yes
Restaurant: No
Cuisine: American, Celebrities in Food
Fee Range: $20,000 – $50,000

Instrgram Followers:

TikTok Followers:
Biography:
Celebrity chef for hire Jeff Henderson is one of the most inspirational celebrity chefs in the industry. His story of incarceration, redemption and culinary success teaches audiences valuable life lessons in self-belief, education and the power of change.
For Chef Jeff Henderson, befriending fellow inmate Friendly Womack while in jail marked the beginning of his culinary journey towards celebrity chef prestige. During Henderson's 10-year incarceration, Womack mentored him in the prison kitchen until his release in 1996. After being released, Henderson moved to Las Vegas to pursue his newfound passion for cooking, and without any professional training became the first African American Chef de Cuisine at Caesar's Palace in 2001.
As Henderson gained more experience in the industry, he worked at several elite restaurants in the Las Vegas area, including Café Bellagio until the year 2006. The following year, Henderson decided to share his incredible story with the public in his New York Times bestselling book Cooked: My Journey From the Streets to the Stove. The book was so successful that it is to be made into a movie by Will Smith's production company Overbrook Entertainment, in collaboration with Escape Artists and Columbia Pictures. In addition to his autobiography, Henderson has also released two cookbooks entitled Chef Jeff Cooks: In the Kitchen with America's Inspirational New Culinary Star in 2008, and America I AM Pass It Down Cookbook in 2011.
Inclined to help others after his own turnaround, Henderson created a 2008 Food Network television series entitled The Chef Jeff Project to assist others in need of an opportunity for a better life. The series followed six young adults with turbulent backgrounds as they worked with Henderson for a month, granting each individual a Food Network Scholarship to culinary school if they remained with Henderson for the duration of the program.
In 2013, Henderson created the show Family Style with Chef Jeff which focuses on the importance of healthy cooking as well as the numerous benefits a nutritious menu can have for the entire family. He has also made appearances on shows such as The Oprah Winfrey Show and Good Morning America to share his moving story with the public and inspire others towards positive change through education and innovation.
Henderson is available for a variety of celebrity chef appearances and celebrity chef speaking engagements including corporate conferences, trade shows, business event and special celebrations such as Rose-Hulman Institute of Technology's Martin Luther King Jr. Celebration which he headlined in January of 2017.
Would your organization like to hire Jeff Henderson for your upcoming event or marketing campaign? Let a qualified celebrity chef booking agent help find the perfect celebrity chef speaker for you! A celebrity chef speaker can create a dynamic event and add energy and excitement to your event. Celebrity chef appearances can consist of a cooking demonstration, personal appearances or a keynote speech. If you would like to hire Jeff Henderson or are interested in exploring other celebrity chefs please call Celebrity Chef Network at 212-410-9879 or email booking@celebritychefnetwork.com to speak with a celebrity chef agent to discuss top celebrity chefs available for your organization and event.