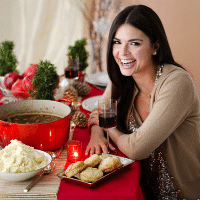 Katie Lee
Does Virtual Events:
TV Show: Yes
Cookbook: Yes
Restaurant: No
Cuisine: American, Garden to Table, Healthy
Fee Range: $20,000 – $50,000

Instrgram Followers:

TikTok Followers:
Biography:
Katie Lee is a food critic and cook who is known for hosting The Kitchen and appearing as a food and lifestyle contributor for the Early Show. In addition to these roles, Lee is an accomplished writer who provides a weekly column for the magazine Hamptons and has published two cookbooks and one novel.
After college graduation, Lee worked in several restaurants and gourmet food and wine stores. In 2003, she helped open Jeff and Eddy's Restaurant, where she served as the house fishmonger. Two years later, she launched a foodie website entitled OliveAndPeach.com. The following year, she was invited to host the first season of Bravo's Top Chef. In 2008, Lee released her first cookbook, The Comfort Table. In this book, she includes family recipes and classics from her childhood growing up in West Virginia, while also sharing some innovative new recipes. While the cookbook contains fabulous recipes, it also includes entertaining tips and anecdotes for a lively reading. In 2009, Lee released The Comfort Table: Recipes for Everyday Occasions, which includes more than 100 easy-to-prepare seasonal recipes for breakfast, lunch, and dinner. In 2011, Lee released a novel called Groundswell, which is about a woman recovering from divorce who finds a healing power in surfing. In addition to her books, Lee is a contributing editor to Gotham magazine and publishes a weekly column entitled "Katie's Ktichen" in the magazine Hamptons. She is currently working on a new novel.
Outside of writing books, Lee has served as a food and lifestyle contributor for The Early Show and as a special correspondent for Extra. She is also one of the hosts of Food Network's talk show The Kitchen and has appeared on the Rachael Ray Show, Martha, Today, and Fox News. Lee is very active in community efforts, serving as a member of the Feeding America Entertainment Council and as a volunteer for Les Dames d'Escoffier, an organization that educates and mentors women in the culinary profession. Lee previously served on the council of Chefs for Humanity, a group that combats obesity, hunger, and emergency conditions worldwide.
Cooking demonstrations, endorsements, personal appearances, PR campaigns, speaking engagements, hire, book, we represent, contact, find celebrities, chefs and agents for Katie Lee. If you want to find the representation, PR firm, marketing company, corporate consulting, speaking agent, to book or hire Katie Lee, Celebrity Chef Network is the agency of corporate consulting for your program. Our booking agents are the best in the business for consulting companies, agencies and universities in finding fees, availability and interest for celebrity chefs like Katie Lee for any type of event, appearance, speaking engagement, endorsement, corporate event, motivational speech, PR campaigns, etc. Call Celebrity Chef Network at 212-410-9879 or email booking@celebritychefnetwork.com.  Our booking agents are here to help you hire your Celebrity Chef now.