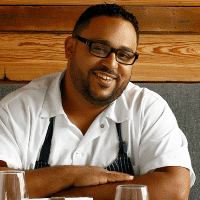 Kevin Sbraga
Does Virtual Events:
TV Show: No
Cookbook: No
Restaurant: Yes
Cuisine: American
Fee Range: $10,000 – $20,000

Instrgram Followers:

TikTok Followers:
Biography:
The name Kevin Sbraga is most recognizable as the season seven winner of the hit reality television series Top Chef.  However, this talented chef has a lot more to bring to the table than just the Top Chef title. The African American Italian chef, and self-proclaimed "Barack Obama of the cooking game," got his start working with the famed Chef Jose Garces.  Garces, impressed with Kevin's philosophy and work, hired him on as culinary director of Garces Group. Under the mentoring of Chef Garces, Sbraga competed in the Bocuse d'Or USA culinary competition in the fall of 2008 and won the award for Best Meat Presentation.
This achievement opened up many doors for Sbraga, and upon returning from competition he was offered a position by Stephen Starr, the head of the prestigious Starr Restaurant Organization, as executive chef at Rat's Restaurant in Hamilton, New Jersey.  In 2010, Chef Sbraga graciously accepted the invitation to join the season seven cast of Top Chef, where he went on to advance to the finale, and eventually win, impressing audiences across America. When asked about his experience in Top Chef, he will say that it brought him a sense of clarity and direction in his career, and before he had even won, he felt that he had the confidence to open his own restaurant.
In October 2011, he opened up his restaurant Sbraga, which he runs by his philosophy of no rules, just cook from the heart and cook what's good.  Since the establishment of his restaurant, celebrity chef speaker Kevin Sbraga has had many other business ventures including building, and expanding, on his culinary consulting company, Sbraga Dining.  He has also received numerous accolades including Esquire Magazine's "Best New Restaurants" 2012, Bon Appetit Magazine's "Philadelphia's New Originals Lightweight Knock out" 2012, Rising Star's "Community Chef" 2013, and Zagat Restaurant Guide's "#1 Restaurant on Avenue of the Arts & Best Newcomer" 2013.
Cooking demonstrations, endorsements, personal appearances, PR campaigns, speaking engagements, hire, book, we represent, contact, find celebrities, chefs and agents for Kevin Sbraga. If you want to find the representation, PR firm, marketing company, corporate consulting, speaking agent, to book or hire Kevin Sbraga, Celebrity Chef Network is the agency of corporate consulting for your program. Our booking agents are the best in the business for consulting companies, agencies and universities in finding fees, availability and interest for celebrity chefs like Kevin Sbraga for any type of event, appearance, speaking engagement, endorsement, corporate event, motivational speech, PR campaigns, etc. Call Celebrity Chef Network at 212-410-9879 or email booking@celebritychefnetwork.com.  Our booking agents are here to help you hire your Celebrity Chef now.