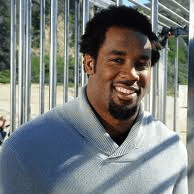 Dhani Jones
Does Virtual Events:
TV Show: No
Cookbook: No
Restaurant: Yes
Cuisine: American, Celebrities in Food
Fee Range: $20,000 – $50,000

Instrgram Followers:

TikTok Followers:
Biography:
Dhani Jones is one of the latest celebrities to crossover from the athletic playing field to a celebrity personality.  Dhani has made the rare transition from the 'athletic jock' persona, to the cultured travel guide who's been the host of his own television show.  Dhani's appeal is unique in the culinary and travel lens, because he attracts a whole new market of viewers who identify with him because of his high profile as an athlete.
Celebrity Chef and Speaker Dhani Jones' first claim to fame came as a linebacker in the National Football League.  He played 10 seasons in the league for 3 different teams before deciding to focus his efforts towards a career as a television personality.  At the end of his playing career, Dhani was chosen to host his own show on the Travel Channel called Dhani Tackles the Globe.  The show featured Dhani traveling to foreign countries all over the world to learn local sport and cultural traditions.  The show was a commercial successful and was brought back for a second season on the Travel Channel.  Dhani also briefly hosted a show on VH1 called of Ton of Cash that only lasted a single season. Aside from his work on television Dhani has also ventured off to establish a creative agency called VMG Creative, and opened a restaurant called Bow Tie Café.  Additionally, Dhani is a former contributor to the Page2 section of ESPN.com where he provided commentary pieces.  He also did a 7-part series for Men's Journal called "Spirited Escapes" where he traveled the world and shared his personal experiences about culture and life.
In terms of philanthropy, Dhani has been a presence in a number of organizations.  Through his own charity, The BowTie Foundation, the primary objective is to enhance the personal development of underprivileged youths in the Cincinnati area.
Cooking demonstrations, endorsements, personal appearances, PR campaigns, speaking engagements, hire, book, we represent, contact, find celebrities, chefs and agents for Dhani Jones. If you want to find the representation, PR firm, marketing company, corporate consulting, speaking agent, to book or hire Dhani Jones, Celebrity Chef Network is the agency of corporate consulting for your program. Our booking agents are the best in the business for consulting companies, agencies and universities in finding fees, availability and interest for celebrity chefs like Dhani Jones for any type of event, appearance, speaking engagement, endorsement, corporate event, motivational speech, PR campaigns, etc. Call Celebrity Chef Network at 212-410-9879 or email booking@celebritychefnetwork.com.  Our booking agents are here to help you hire your Celebrity Chef now.