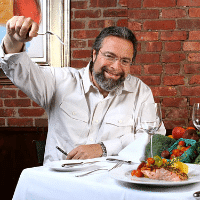 Drew Nieporent
Does Virtual Events:
TV Show: No
Cookbook: No
Restaurant: Yes
Cuisine: American, Celebrities in Food
Fee Range: $20,000 – $50,000

Instrgram Followers:

TikTok Followers:
Biography:
Drew Nieporent is owner of Myriad Restaurant Group which operates high end restaurants in different countries. Nieporent's career began with the opening of his first restaurant, Montrachet, which earned a spectacular three stars from the New York Times. Since then, he has gone on to open 35 plus prestigious restaurants around the world, like New York City where his restaurant Corton is known for their difficulty in obtaining reservations.
One of the most powerful and successful restaurateurs in the world, Nieporent has partnered with famous celebrities in opening Michelin star quality restaurants like Nobu and Nobu London which he owns with actor Robert De Niro and celebrity chef Nobu Matsuhisa. Drew Nieporent has collected a long list of awards for his amazing work in the restaurant industry, including Bon Appetit's Restaurateur of the Year, the Mellman Award, Cornell Hospitality Innovator and James Beard Foundation Outstanding Restaurateur among many more.
Nieporent has made several television appearances including ABC's Good Morning America, the Food Network's Iron Chef, Top Chef and as a culinary expert on Worst Cooks in America with celebrity chefs Anne Burrell, Robert Irvine, and Marc Murphy.  In 2011, Drew Nieporent was featured in the HBO documentary A Matter of Taste based on the career of celebrity chef Paul Liebrandt who is chef and co-owner of Nieoporent's restaurant Corton. The documentary also stars acclaimed celebrity chefs Thomas Keller, Grant Achatz, and Daniel Boulud.
Cooking demonstrations, endorsements, personal appearances, PR campaigns, speaking engagements, hire, book, we represent, contact, find celebrities, chefs and agents for Drew Nieporent. If you want to find the representation, PR firm, marketing company, corporate consulting, speaking agent, to book or hire Drew Nieporent, Celebrity Chef Network is the agency of corporate consulting for your program. Our booking agents are the best in the business for consulting companies, agencies and universities in finding fees, availability and interest for celebrity chefs like Drew Nieporent for any type of event, appearance, speaking engagement, endorsement, corporate event, motivational speech, PR campaigns, etc. Call Celebrity Chef Network at 212-410-9879 or email booking@celebritychefnetwork.com.  Our booking agents are here to help you hire your Celebrity Chef now.