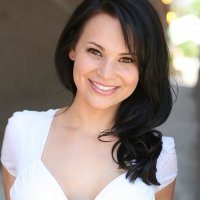 Rosanna Pansino
Does Virtual Events:
TV Show: No
Cookbook: Yes
Restaurant: No
Cuisine: Celebrities in Food, Desserts and Pastry, Writer/Blogger
Fee Range: $20,000 – $50,000

Instrgram Followers: 838,098

TikTok Followers:
Biography:
Celebrity Chef Rosanna Pansino is an up-and-coming baking sensation who has built quite the career in the culinary industry through her popular YouTube channel boasting over 4.8 million followers and counting. Every Tuesday, Rosanna posts a new episode of her online show called Nerdy Nummies in addition to other fun, interactive videos that showcase her baking skills. From brownie rubik's cubes to Star Wars lightsaber-inspired popsicles, her cute, creative baked goods are truly one-of-a-kind! Rosanna's first cookbook titled Nerdy Nummies set to release in the fall of 2015. A woman of many talents, Rosanna released her first official single in February of 2015 titled Perfect Together.
Before her days as a culinary star, Celebrity Chef Rosanna Pansino was an aspiring actress. She landed a few small roles in major TV series including Fox's Glee and NBC's Parks and Recreation. In 2013, Rosanna leant her voice to the YouTube animated series Broken Quest. That same year, she recorded 3 of YouTube's most viral food videos of the year. As her YouTube channel began to gain popularity, Rosanna was one of the first YouTube stars to advertise her channel in print and TV ad campaigns. Her channel now averages over 75 million views a month.
Celebrity Chef Rosanna Pansino has been featured in several notable publications including Food & Wine magazine, Cosmo magazine, AdWeek and Business Insider. Variety magazine named her one of the top 12 stars of the digital world, as part of their July 2015 Famechangers issue. As she continues to grow her career in entertainment and the culinary arts, Rosanna hopes to branch out from baked goods to also begin incorporating her favorite family recipes into her shows.
Celebrity Chef Rosanna Pansino is available for a variety of celebrity chef appearances including meet and greets, cooking demonstrations, marketing campaigns and more.