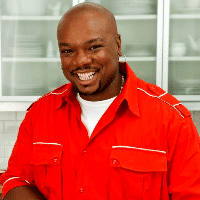 Aaron McCargo Jr.
Does Virtual Events:
TV Show: Yes
Cookbook: Yes
Restaurant: No
Cuisine: American, Desserts and Pastry
Fee Range: $10,000 – $20,000

Instrgram Followers: 1,782

TikTok Followers:
Biography:
New Jersey native and Celebrity Chef Speaker Aaron McCargo, Jr. rose to culinary fame as the winner of season 4 of Food Network's hit TV show The Next Food Network Star in 2008. The Food Network went on to hire Aaron McCargo Jr. for his own six-episode cooking show entitled Big Daddy's House, in which he showcased his simple yet flavorful cooking style. The show continues to air today and was ranked the number one running 'in the kitchen' weekend show on Food Network in its first season.
In 2010, top celebrity chef Aaron published his first cookbook entitled Simply Done, Well Done, which features the simple, easy to prepare recipes with bold flavors that he cooks on the show and at home. Chef McCargo is an advocate for cooking that is centered on fun and spending time with loved ones while creating a special dish. He was a contributing editor for Essence Magazine and published many articles on how to get the family into the kitchen.
Aaron stepped outside the kitchen to create his own charity, Play to Win, which works to increase the graduation rates of male youths in his community of Camden, New Jersey. In response to his charity work, the city named September 25th 'Aaron McCargo, Jr. Day'. Chef Aaron has also released a signature line of herbs and spices to help amateur chefs achieve the flavors that Chef Aaron creates through his recipes.
Celebrity Chef Speaker Aaron McCargo has made a number of celebrity chef appearances on popular TV shows outside of his own including NBC's Today Show, ABC's Live with Regis and Kelly, Dr. Oz, and Rachael Ray. In March of 2015, the celebrity chef speaker partnered with Fresenius Medical Care North America to launch his Kidney-Friendly Food Tour where he traveled to major cities in the U.S. sharing healthy eating tips for patients on dialysis.
Since becoming one of the Food Network's most recognized personalities, companies and organizations have requested to hire Aaron McCargo Jr. for celebrity chef speaking engagements, cooking demonstrations and other personal appearances thanks to his down-to-earth personality and unique cooking style.
Would your organization like to hire a chef for your upcoming event or marketing campaign? Let a qualified celebrity chef booking agent help find the perfect celebrity chef speaker for you! A celebrity chef speaker can create a dynamic event and add energy and excitement to your event. Celebrity chef appearances can consist of a cooking demonstration, personal appearances or a keynote speech. If you would like to hire Aaron McCargo Jr. or are interested in exploring other celebrity chefs please call Celebrity Chef Network at 212-410-9879 or email booking@celebritychefnetwork.com to speak with a celebrity chef agent to discuss top celebrity chefs available for your organization and event.