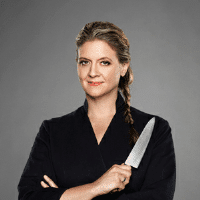 Amanda Freitag
Does Virtual Events:
TV Show: Yes
Cookbook: No
Restaurant: Yes
Cuisine: Italian
Fee Range: $20,000 – $50,000

Instrgram Followers: 79,782

TikTok Followers:
Biography:
Celebrity Chef Speaker Amanda Freitag is a familiar Food Network personality and culinary expert based in New York. She is a regular judge on the Food Network's popular series Chopped and co-host of American Diner Revival with Ty Pennington which aired its first successful season in May of 2015. In the past, companies and organizations have chosen to hire Amanda Freitag to make celebrity chef appearances at trade shows, corporate events, fundraisers and more.
After graduating from the Culinary Institute of America, Celebrity Chef Speaker Amanda Freitag took her first culinary position in a NY City kitchen working as the rotissier and pantry chef at Vong in 1993 opposite Jean-Georges Vongerichten. While there, she perfected her French techniques and in 1994, she began working with mentor and friend Diane Forley at Verbena. Amanda eventually became the chef de cuisine and was taught the importance of local and organic products.
After traveling through France and Italy, top Celebrity Chef Amanda Freitag came back to New York and began working alongside Tom Valenti as his chef de cuisine. While there, she earned two stars from The New York Times and she also earned high praise for her cuisine at Gusto in the West Village. In 2007, Amanda Freitag took her talents to Jimmy Bradley's The Harrison. She has been the recipient of numerous awards from the local and national media which include a two-star review from The New York Times and features in New York Magazine, Forbes Life and Time Out New York. Amanda is passionate about helping to prevent childhood obesity and has teamed up with Louie's Kids to help raise awareness.
From 2010-2013, Celebrity Chef Speaker Amanda Freitag was the host of 6 seasons of the Cooking Channel Series Unique Eats. She has also made frequent celebrity chef appearances on Iron Chef American and The Next Iron Chef.
In 2016, Amanda has continued to grow her fan base making a number of celebrity chef appearances at local food festival's such as the South Beach Wine & Food Festival and other special events for celebrity chef cooking demonstrations and celebrity chef speaking engagements.
Would your organization like to hire Amanda Freitag for your upcoming event or marketing campaign? Let a qualified celebrity chef booking agent help find the perfect celebrity chef for you! A celebrity chef speaker can create a dynamic event and add energy and excitement to your event. Celebrity chef appearances can consist of a cooking demonstration, personal appearances or a keynote speech.  If you would like to hire Amanda Freitag or are interested in exploring other celebrity chefs please call Celebrity Chef Network at 212-410-9870 or email booking@celebritychefnetwork.com to speak with a celebrity chef agent to discuss top celebrity chefs available for your organization and event.