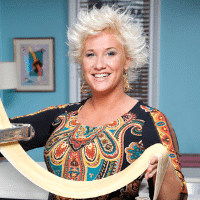 Anne Burrell
Does Virtual Events:
TV Show: Yes
Cookbook: Yes
Restaurant: No
Cuisine: American, Italian
Fee Range: $20,000 – $50,000

Instrgram Followers:

TikTok Followers:
Biography:
Anne Burrell is well known not only for her amazing dishes, but also for her trademark spiky blond hair. She has worked at some of New York's finest restaurants, studied the culinary traditions of Italy, and has been Mario Batali's sous chef on Food Network's Iron Chef America. Her TV show, Secrets of a Restaurant Chef reveals easy to master technique and dishes for the at home cook. Anne Burrell also co-hosts Worst Cooks in America and leads a team of inexperienced home cooks around the country taking them through culinary boot camp.
One of the first restaurants Anne worked in was when she arrived back in New York City from her travels in Italy at Felidia Restaurant, working with Lidia Bastianich. Then, she served as a chef at Savoy where she cooked over an open wood fire, creating colorful menus, after being inspired by the Mediterranean.  Where at Savoy, she developed her culinary style—a love of rustic food made with simple and pure ingredients but with intense flavors.
Her next move was to the Institute of Culinary Education, but not to be a student. Anne Burrell took the opportunity to take a passion; teaching, and teach students her culinary knowledge. After three years of teaching, she went back to the restaurant business, serving as the executive chef at Lumi Restaurant. After Lumi, she joined the Batali-Bastianich empire by accepting a job at Italian Wine Merchants. This entailed salumi production and traveling to off-site events with Mario Batali. Mario was then asked to be one of Food Network's Iron Chefs, and enlisted Anne as his sous chef. Through 2007-2008, Anne Burrell served as executive chef at hot spot Centro Vinoteca, where she made a menu of small plates, antipasti, pastas and main courses all presented with her trademark bold, pure, rustic flavors. She is available for cooking demonstrations, hosting and corporate appearances.
APPEARANCES: Iron Chef, Food Network, Secrets of a Restaurant Chef, Worst Cooks in America, Guy Fieri Roadshow
WHO REPRESENTS ANNE BURRELL: Celebrity Chef Anne Burrell can be hired for endorsements and events in roles such as culinary consultant, event planner, public speaker, autograph signings, cooking demonstrations, hosting, Mommy Blogger events, SMTS, public relation campaigns, team building events and corporate hospitality.
To hire Anne Burrell for an endorsement, personal appearances, or book signing contact the experts at Celebrity Chef Network at booking@celebritychefnetwork.com  or 212-410-9879.