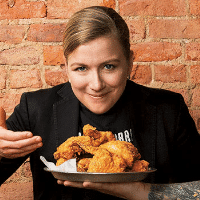 Ashley Christensen
Does Virtual Events:
TV Show: No
Cookbook: No
Restaurant: Yes
Cuisine: Southern
Fee Range: $10,000 – $20,000

Instrgram Followers:

TikTok Followers:
Biography:
Celebrity Chef Speaker Ashley Christensen got her first taste of the food industry when she began throwing dinner parties for friends and family members during college. Realizing that hospitality and serving up delicious, comforting food was her passion, Ashley started down a new career path as a chef and proprietor, setting her pots and pans down in Raleigh, North Carolina. Her first restaurant, Poole's Diner, opened in 2007; shortly after, four more ventures followed—Chicken + Honey, Chuck's, Joule Coffee, and the Fox Liqour Bar. Every restaurant has a unique flavor, putting its own spin on traditional Southern favorites. Ambition is no problem for this motivated chef, who plans to open three more places in the area. Without a doubt, Ashley is a major force in Raleigh's food and dining scene.
In 2014, she awarded a huge honor in the chef world: the James Beard Award of Best Chef: Southeast; Ashley has also previously cooked dinner at the James Beard house in New York. Her food and work in the kitchen garnered the accomplished chef attention from notable publications like the New York Times, Bon Appétit, Southern Living, and Gourmet, as well as television appearances on MSNBC's Your Business and Iron Chef America. However, Ashley sees food as more than just a career and way to make money, but more importantly, it is a means to fostering and giving back to the community. She is involved with several charitable organizations, from serving on the boards of the Frankie Lemmon Foundation, Downtown Raleigh Alliance, and the Raleigh Contemporary Art Museum to co-hosting charity events such as the Triangle Wine Experience and Stir the Pot, an event which she founded herself. She is also heavily involved in the Southern Foodways Alliance. While most people would expect such an accomplished and driven chef to be all business, Ashley has been praised just as often for her respectful, affable, calm personality as her fried chicken recipe.
Cooking demonstrations, endorsements, personal appearances, PR campaigns, speaking engagements, hire, book, we represent, contact, find celebrities, chefs and agents for Ashley Christensen. If you want to find the representation, PR firm, marketing company, corporate consulting, speaking agent, to book or hire Ashley Christensen, Celebrity Chef Network is the agency of corporate consulting for your program. Our booking agents are the best in the business for consulting companies, agencies and universities in finding fees, availability and interest for celebrity chefs like Ashley Christensen for any type of event, appearance, speaking engagement, endorsement, corporate event, motivational speech, PR campaigns, etc. Call Celebrity Chef Network at 212-410-9879 or email booking@celebritychefnetwork.com.  Our booking agents are here to help you hire your Celebrity Chef now.