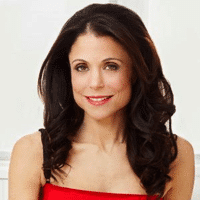 Bethenny Frankel
Does Virtual Events:
TV Show: Yes
Cookbook: Yes
Restaurant: No
Cuisine: Celebrities in Food, Healthy
Fee Range: $100,000+

Instrgram Followers:

TikTok Followers:
Biography:
Celebrity chef and worldwide television star, Bethenny Frankel is a pioneer in food industry.  She has been featured on The Real Housewives of New York City, The Apprentice: Martha Stewart, and Skating with the Stars.  She has also starred in her own TV series Bethenny Getting Married? and Bethenny Ever After… Her next endeavor, a TV talk show entitled Bethenny, co-produced by Ellen DeGeneres, is set to air nationwide in the fall of 2013.
Bethenny has focused her talents into creating the multimillion-dollar company, Skinnygirl, which offers healthy tips and products for women, including on-the-go bars, vitamins, margaritas, wine, and variety of other cocktails.  The rapidly growing company of Skinnygirl has been partnered with the television station, E!, as well as a popular women's charity, Dress For Success, which Kim Kardashian has also been affiliated with. Frankel's company, Skinnygirl, also won the Shorty Industry Award for "Winning the Oscars" through the company's innovative marketing and social media strategy.
Bethenny runs her own website and blog, where she shares tips on food recipes, health, relationships, fashion, kids, TV, and SkinnyGirl. Frankel is a three-time New York Times bestselling author has written several cookbooks including the instant bestseller Naturally Thin, The Skinnygirl Dish, and The Skinnygirl Rules: For Getting and Staying Naturally Thin as well as a biography about her life.  The celebrity chef and business mogul has been a role model of success for many working mothers and has revolutionized the food industry for women.
Cooking demonstrations, endorsements, personal appearances, PR campaigns, speaking engagements, hire, book, we represent, contact, find celebrities, chefs and agents for Bethenny Frankel. If you want to find the representation, PR firm, marketing company, corporate consulting, speaking agent, to book or hire Bethenny Frankel, Celebrity Chef Network is the agency of corporate consulting for your program. Our booking agents are the best in the business for consulting companies, agencies and universities in finding fees, availability and interest for celebrity chefs like Bethenny Frankel for any type of event, appearance, speaking engagement, endorsement, corporate event, motivational speech, PR campaigns, etc. Call Celebrity Chef Network at 212-410-9879 or email booking@celebritychefnetwork.com.  Our booking agents are here to help you hire your Celebrity Chef now.