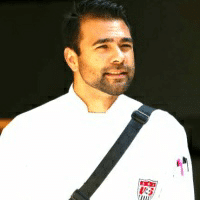 Bryson Billapando
Does Virtual Events:
TV Show: No
Cookbook: No
Restaurant: No
Cuisine: American, Organic
Fee Range: $10,000 – $20,000

Instrgram Followers:

TikTok Followers:
Biography:
Bryson Billapando, the talented chef for the U.S. men's soccer team at the 2014 World Cup in Brazil, endured a long and painful journey before earning the honor of serving the United States in the world's biggest sporting event and reaching celebrity chef status. The aspiring chef began his studies at Johnson & Wales University's esteemed college of culinary arts in Denver, Colorado. After graduation, the young talent stayed in the Denver area to begin his career as a chef, where he was able to witness some of the best chefs in the business at work, such as Paul and Lourdes Ferzacca of La Tour in Vail and famed restaurateur Thomas Keller. However, Billapando's whole world would soon be flipped upside down. In July of 2012 tragedy struck when chef Billapando and his then wife, pregnant with their second child, went to the midnight premiere of The Dark Knight Rises at an Aurora, Colorado movie theater. During the movie a gunman entered the theater and opened fire killing 12 people and injuring 70, including Billapando's wife who was struck by flying fragments. It was by a stroke of luck that the chef and his wife were not killed in that theater. Despite surviving the attack, the aftermath and road to recovery were a struggle for Billapando, as he underwent many counseling sessions to deal with depression and post-traumatic stress disorder. He began to immerse himself into his cooking to distract himself from the traumatizing events of the shooting, and two years later he saw new light in his life as he was bestowed the honor of being the chef for the U.S. men's soccer teams as they traveled to Brazil to compete in the world cup.
Celebrity chef Bryson Billapando has already become a popular figure on the men's soccer team as he ensures that the players receive all their favorite, and of course nutritious, dishes that they are familiar with, despite being in a foreign country where many simple American staples such as cheerios, peanut butter, and A1 steak sauce are hard to come across. Not only does Chef Billapando provide players with their favorite foods, but he is also always sure to incorporate organic and wholesome ingredients to every meal to ensure top quality meals for America's top athletes. With the help of U.S. team nutritionist Danielle LaFata, chef Billapando tailors every meal to each athlete and his caloric and nutritional needs creating as many as 50 individual meals per day. Additionally he helps LaFata create pre-workout energy drinks, and post workout recovery smoothies that are much more effective than the average run of the mill sugary sports drink. The experience of being a chef at the world cup with Team USA has provided chef speaker Bryson Billapando with an incredible support system, helping him move on from the theater shootings, and become stronger than ever before.
Cooking demonstrations, endorsements, personal appearances, PR campaigns, speaking engagements, hire, book, we represent, contact, find celebrities, chefs and agents for Bryson Billapando. If you want to find the representation, PR firm, marketing company, corporate consulting, speaking agent, to book or hire Bryson Billapando, Celebrity Chef Network is the agency of corporate consulting for your program. Our booking agents are the best in the business for consulting companies, agencies and universities in finding fees, availability and interest for celebrity chefs like Bryson Billapando for any type of event, appearance, speaking engagement, endorsement, corporate event, motivational speech, PR campaigns, etc. Call Celebrity Chef Network at 212-410-9879 or email booking@celebritychefnetwork.com.  Our booking agents are here to help you hire your Celebrity Chef now.