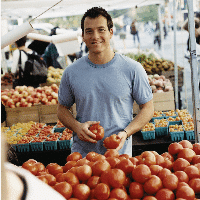 Dave Lieberman
Does Virtual Events:
TV Show: Yes
Cookbook: Yes
Restaurant: No
Cuisine: Fusion
Fee Range: $20,000 – $50,000

Instrgram Followers:

TikTok Followers:
Biography:
Celebrity speaker, Dave Lieberman is best known for hosting Food Network series Good Deal with Dave Lieberman. But before he made it big on every foodie's favorite television network, The Philadelphia native began his budding culinary show career at Ivy League, Yale University. While studying at Yale, Lieberman ran his own public-access television show called Campus Cuisine, which has been described as "sophisticated and accessible cooking with crazy college adventures." In 2005, Lieberman made the jump from his small public-access television show to the Food Network. The big time cable television network offered Dave his own series called Good Deal with Dave Lieberman, which presents viewers with gourmet quality recipes that won't break the bank.  In addition to his new and thriving show, Lieberman also released his first book in 2005, titled Young & Hungry, followed by a second book Dave's Dinners: A Fresh Approach to Home-Cooked Meals, in 2006. Then in 2009 he released a third book called The 10 Things You Need to Eat, which focuses in on super foods that are not only great for the body, but taste great too, with the proper preparation.  All three books, and his show, became hits, combining two trends that every American loves: Affordable eating and healthy eating. As Lieberman's show and books rose to popularity, so did the Chef's name and face. The once host of Campus Cuisine was now a nationally recognized figure, and even caught the eye of popular celebrity news magazine, People, who deemed him one of America's 50 Hottest Bachelors. As a result of Lieberman's success, the Food Network offered him another series to host.  The web-exclusive series Eat This with Dave Lieberman features the chef personality traveling around US cities uncovering the latest trends and fads in cuisine, sampling everything from specialty meats, to flavored salts and dessert bars.  Currently, Dave resides in Los Angeles and is working on writing a new book that will be half cookbook, and half travel narrative.
Cooking demonstrations, endorsements, personal appearances, PR campaigns, speaking engagements, hire, book, we represent, contact, find celebrities, chefs and agents for Dave Lieberman. If you want to find the representation, PR firm, marketing company, corporate consulting, speaking agent, to book or hire Dave Lieberman, Celebrity Chef Network is the agency of corporate consulting for your program. Our booking agents are the best in the business for consulting companies, agencies and universities in finding fees, availability and interest for celebrity chefs like Dave Lieberman for any type of event, appearance, speaking engagement, endorsement, corporate event, motivational speech, PR campaigns, etc. Call Celebrity Chef Network at 212-410-9879 or email booking@celebritychefnetwork.com.  Our booking agents are here to help you hire your Celebrity Chef now.