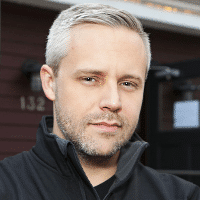 Eddie Russell
Does Virtual Events:
TV Show: Yes
Cookbook: No
Restaurant: No
Cuisine: American
Fee Range: $20,000 – $50,000

Instrgram Followers:

TikTok Followers:
Biography:
When it comes to the kitchen, all it takes is the perfect combination of ingredients, technique and simplicity according to celebrity chef Eddie Russell. Born and raised in Atlanta, Eddie has quickly become Georgia's favorite bar and restaurant guru and his experienced background in some of Georgia's top gastropubs make him the perfect consultant for quick yet delectable menu items for bars and bistros. His new TV show on the Cooking Channel titled Belly Up! premiered in June of 2014 and features the celebrity chef on a mission to change the way bar owners and consumers look at pub food. As both a chef and private consultant for bars, taverns and gastropubs, Eddie knows all the ins and outs of the restaurant business and his new show takes viewers on a journey to some of America's failing bars and bistros that need the magic touch of Eddie Russell.
Eddie's new exciting TV series on the Cooking Channel comes after a number of years spent working under renowned chefs who helped develop his culinary skills in different areas. Eddie is a trained butcher and former pastry chef at Athens, Georgia's Five and Ten restaurant under celebrity chef Hugh Acheson. He also worked as a chef at other heralded Athens restaurants including the Trappeze Pub and Farm 55 before accepting the job as the executive chef of Parish Food and Goods in Atlanta. Eddie's cooking style focuses on made from scratch creations that pair the perfect ingredients while also avoiding complicating the dish with too much or too little of one set of ingredients.
One of Eddie's proudest achievements was the formation of the Four Coursemen Supper Club, a group of talented chefs who deliver an unmatched culinary display and community event for the public featuring experimental cooking and tasty food and wine pairings.
Cooking demonstrations, endorsements, personal appearances, PR campaigns, speaking engagements, hire, book, we represent, contact, find celebrities, chefs and agents for Eddie Russell. If you want to find the representation, PR firm, marketing company, corporate consulting, speaking agent, to book or hire Eddie Russell, Celebrity Chef Network is the agency of corporate consulting for your program. Our booking agents are the best in the business for consulting companies, agencies and universities in finding fees, availability and interest for celebrity chefs like Eddie Russell for any type of event, appearance, speaking engagement, endorsement, corporate event, motivational speech, PR campaigns, etc. Call Celebrity Chef Network at 212-410-9879 or email booking@celebritychefnetwork.com.  Our booking agents are here to help you hire your Celebrity Chef now.