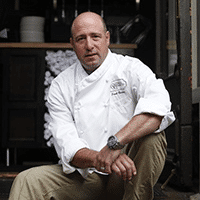 Frank Bonanno
Does Virtual Events:
TV Show: No
Cookbook: Yes
Restaurant: Yes
Cuisine: Classical French
Fee Range: Under $10,000

Instrgram Followers:

TikTok Followers:
Biography:
Hire Frank Bonanno through Celebrity Chef Network. Booking a celebrity chef requires an expert team. Let the booking agents at Celebrity Chef Network help you hire the best one for your brand or event. To contact Celebrity Chef Network, call 212-410-9879 or email booking@celebritychefnetwork.com.
BIO: Celebrity Chef Frank Bonannofound his passion for cooking at an early age. Growing up in a Sicilian family, Bonanno can vividly remember how the aromas of his grandmother's cooking filled his New Jersey home. When recounting his childhood, he also tells of how he and his mother would try out Julia Child recipes on the family in hopes recreating her culinary magic.
After graduating from the University of Denver with a degree in finance, Frank Bonanno determined that Wall Street was not for him. He decided to pursue his love of cooking and obtained a second degree from the Culinary Institute in Hyde Park, NY. Not soon after, in 2001, Chef Bonanno returned to Denver to open up his first restaurant, Mizuna, and has not looked back since.
Chef Bonanno's restaurants are regarded not only among the best restaurants in Denver, but in the entire United States. Zagat has recognized Bonanno restaurants Mizuna, Luca d'Italia, and Bones as part of their prestigious ranking of "America's Top Restaurants." Further exemplifying his culinary skill, Chef Frank Bonanno has opened three additional restaurants ranging in cuisine from French-casual, to American, to Asian.
Bonanno says he "is inspired by classic French techniques, but also by the simplicity of the type of food found in the best American restaurants." Continuing with this them of simplicity in cooking, he believes in offering "clean flavors that enhance the freshest, finest ingredients." Both of these statements perfectly sum up Bonanno's cooking philosophy that the true "star" of his restaurants is the food.
Bonanno is an active blogger, social media participant and has appeared on multiple television networks. Most recently, he appeared at the Butte Wine & Food Festival held in July 20-24 in Denver, Colorado. Celebrity Chef Frank Bonanno is available for speaking engagements, endorsements, and cooking demonstrations.
APPEARANCES: The Great Food Truck Race, No Reservations, CBS News, Food Network Challenge
WHO REPRESENTS FRANK BONANNO: Celebrity Chef Frank Bonanno can be hired for endorsements and events in roles such as culinary consultant, event planner, public speaker, autograph signings, cooking demonstrations, hosting, Mommy Blogger events, SMTS, public relation campaigns, team building events and corporate hospitality.
To hire Frank Bonanno for an endorsement, personal appearances, or book signing contact the experts at Celebrity Chef Network at booking@celebritychefnetwork.com  or 212-410-9879.