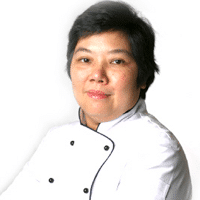 Gina Choong
Does Virtual Events:
TV Show: No
Cookbook: No
Restaurant: No
Cuisine: Asian, Desserts and Pastry
Fee Range: Under $10,000

Instrgram Followers:

TikTok Followers:
Biography:
Celebrity Chef Gina Choong's initial passion for food began later in life after marrying into a family of cooks. She started Kitchen Capers, an online forum that allows her to share recipes, the history and traditions behind them, and her cooking knowledge with her broad audience which includes women living in poverty around the world. The hope was that by the women learning to cook, they would not have to live a life of begging on the streets. Choong also participated in other volunteer work, dedicating her time to teaching underprivileged teenagers basic cooking skills as well as the English language.
In May 2005, Choong was hired by Goshen Restaurant to assist in training the staff to cook and serve. The staff consisted of a group of ex-drug offenders who were given a second chance to do well in life. Gina Choong continues to share her recipes on the Kitchen Capers online forum, as well as through her at-home cooking lessons. During the cooking classes, Choong teaches her students how to cook two Asian cuisine dishes each week. Choong has always taken any opportunity to help others in need and to share her love of cooking with those who are disadvantaged.
Cooking demonstrations, endorsements, personal appearances, PR campaigns, speaking engagements, hire, book, we represent, contact, find celebrities, chefs and agents for Gina Choong. If you want to find the representation, PR firm, marketing company, corporate consulting, speaking agent, to book or hire Gina Choong, Celebrity Chef Network is the agency of corporate consulting for your program. Our booking agents are the best in the business for consulting companies, agencies and universities in finding fees, availability and interest for celebrity chefs like Gina Choong for any type of event, appearance, speaking engagement, endorsement, corporate event, motivational speech, PR campaigns, etc. Call Celebrity Chef Network at 212-410-9879 or email booking@celebritychefnetwork.com. Our booking agents are here to help you hire your Celebrity Chef now.