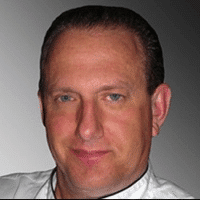 Guy Mitchell
Does Virtual Events:
TV Show: Yes
Cookbook: No
Restaurant: No
Cuisine: American, Fusion
Fee Range: $50,000 – $100,000

Instrgram Followers:

TikTok Followers:
Biography:
Having served as the Executive Chef for the Philadelphia Eagles, the Rocky Hollywood film sets, the Academy Awards, David Rockefeller, and not to mention numerous Presidents and Vice Presidents, it's safe to say that everyone that's anyone important has sampled the culinary creations of celebrity chef Guy Mitchell. Chef Guy began his culinary studies at the Culinary Institute of America, then went on to master his art as an apprentice at the prestigious Waldorf-Astoria Hotel in New York City. Mitchell made his way through the New York culinary scene working with Chef Ron Duprat at the James Beard Foundation, serving at David Rockefeller's distinguished Montauk Yacht Club, and eventually earning his seat on the Board of Directors for the New York City Culinary Academy. As a result Chef Guy's success, he has had the pleasure of working with some of the biggest names in the business such as Emeril Lagasse, Bobby Flay, Paula Deen, Guy Fieri, Tyler Florence and Giada De Laurentiis.  But some would say working alongside those names pales in comparison to his biggest accomplishment, serving the President of the United States. Chef Guy Mitchell has fed all of the distinguished government leaders from around the world as he has worked as a chef for special engagements and dinners at the White House under Presidents Clinton, Bush, and Obama. Additionally, he has also been invited by the Commander Navy Installations Command as a guest judge for the CNIC Navy-Wide Culinary Competition, in which Navy chefs compete against each other to earn spots cooking at the White House Navy Mess, the Vice Presidents' Residence, the Pentagon, and other high ranking Navy Installations.
To add to Chef Guy Mitchell's long list of accomplishments, he also created the White House Chef tour. The tour features a group of former White House Chefs that travel the east coast performing food demonstrations at culinary schools, fundraisers, and wine and food festivals, among other events. Chef Mitchell is also involved in philanthropic efforts.  When tragedy strikes, Guy is always sure to host a fundraiser and provide aid. During 9/11 he raised $30,000 for the Fireman's burn center in New York City.  Then when Hurricane Katrina devastated Louisiana, he raised $50,000. To top off his impressive career, he is one of the few to become a Noted Mastery of Culinary Creations.
Cooking demonstrations, endorsements, personal appearances, PR campaigns, speaking engagements, hire, book, we represent, contact, find celebrities, chefs and agents for Guy Mitchell. If you want to find the representation, PR firm, marketing company, corporate consulting, speaking agent, to book or hire Guy Mitchell, Celebrity Chef Network is the agency of corporate consulting for your program. Our booking agents are the best in the business for consulting companies, agencies and universities in finding fees, availability and interest for celebrity chefs like Guy Mitchell for any type of event, appearance, speaking engagement, endorsement, corporate event, motivational speech, PR campaigns, etc. Call Celebrity Chef Network at 212-410-9879 or email booking@celebritychefnetwork.com.  Our booking agents are here to help you hire your Celebrity Chef now.