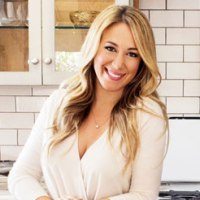 Haylie Duff
Does Virtual Events:
TV Show: Yes
Cookbook: Yes
Restaurant: No
Cuisine: American, Writer/Blogger
Fee Range: $20,000 – $50,000

Instrgram Followers:

TikTok Followers:
Biography:
Book a celebrity chef appearance with Haylie Duff a well-known actress and singer in the entertainment industry but recently she has been adding some new ingredients to her resume! More recently Haylie has found success in the culinary industry as a food blogger and famous chef speaker on her own show on the Cooking Channel. The blog and show, titled Real Girl's Kitchen, is inspired by Haylie's cookbook of the same name she released in October of 2013. From breakfast and lunch to healthy snacks, drinks and dinner dishes, Haylie has found her calling in the kitchen.
Celebrity Chef Haylie got her start in the entertainment business as an actress, appearing in the hit TV series 7th Heaven and the 2004 comedy Napoleon Dynamite. After receiving a family cookbook that belonged to her grandmother, Haylie fell in love with cooking. She is a natural, having self-taught herself everything she knows about the culinary arts. It wasn't long before she was impressing her family and friends in the kitchen and decided to begin blogging and sharing her recipes and kitchen and the Real Girl's Kitchen website was born. Her blog generated positive feedback from foodies all over the world and she was asked to write guest food columns for major publications including the Huffington Post and SheKnows.
Beginning in 2014, Haylie has hosted her Cooking Channel TV series from the comfort of her own home kitchen. Each week she welcomes viewers into her Texas kitchen to share her new recipes and stories about her life. In 2015, Haylie was chosen to guest star as a judge on Duff Goldman's new Food Network series Duff Till Dawn.
Book a celebrity chef appearance Haylie, who has been able to seamlessly transition from actress to Cooking Channel Host thanks in part to her down-home attitude and ability to connect with her audience.