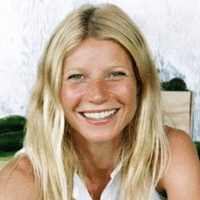 Gwyneth Paltrow
Does Virtual Events:
TV Show: Yes
Cookbook: Yes
Restaurant: No
Cuisine: American, Celebrities in Food, Italian
Fee Range: $100,000+

Instrgram Followers:

TikTok Followers:
Biography:
Gwyneth Paltrow took her celebrity status to the next level by adding 'chef' to her résumé. We all know her as Gwyneth the actress, Gwyneth the singer, and Gwyneth the wife of Coldplay's Chris Martin. Now the Hollywood starlet is Gwyneth the chef with the release of her latest culinary book, It's All Good. The book discusses a health scare that inspired her to change her entire diet. She encourages healthy eating habits, and offers recipes tailored to match her lifestyle. Her main goal is to create dishes that make you look good and feel great. Most of the 185 dishes included in the cookbook are gluten-free, sugar-free and low-carb. Additionally, she reveals ways to cut out dairy, eggs, soy, sugar, coffee, alcohol, shellfish, wheat, meat and processed food. Not an easy task!
Gwyneth has also partnered with other celebrity chefs to star in "Spain…On the Road Again," a PBS cooking series where she works alongside Mario Batali, Mark Bittman, and Spanish actress Claudia Bassols. Although she is one of Hollywood's most glamorous stars, she feels most at home in the kitchen – not on the red carpet. Her passion for food comes from her father, which is demonstrated in her first cookbook My Father's Daughter: Delicious, Easy Recipes Celebrating Family and Togetherness.
Cooking demonstrations, endorsements, personal appearances, PR campaigns, speaking engagements, hire, book, we represent, contact, find celebrities, chefs and agents for Gwyneth Paltrow. If you want to find the representation, PR firm, marketing company, corporate consulting, speaking agent, to book or hire Gwyneth Paltrow, Celebrity Chef Network is the agency of corporate consulting for your program. Our booking agents are the best in the business for consulting companies, agencies and universities in finding fees, availability and interest for celebrity chefs like Gwyneth Paltrow for any type of event, appearance, speaking engagement, endorsement, corporate event, motivational speech, PR campaigns, etc. Call Celebrity Chef Network at 212-410-9879 or email booking@celebritychefnetwork.com. Our booking agents are here to help you hire your Celebrity Chef now.