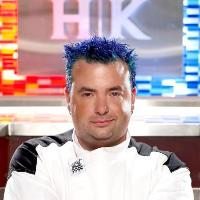 Jason Santos
Does Virtual Events:
TV Show: No
Cookbook: No
Restaurant: Yes
Cuisine: American, Fusion
Fee Range: $10,000 – $20,000

Instrgram Followers:

TikTok Followers:
Biography:
Chef Jason Santos is a culinary artist and popular Food & Wine Speaker with a heck of a vibrant streak. Literally! This quirky chef has bright blue hair! But forget the hair, it's his mouthwatering dishes that will hit you in all the right places. Chef Jason was a frontrunner on Season 7 of Hell's Kitchen and the fan favorite chef rose to fame after his runner-up finish on the show. In December of 2014 it was announced that Celebrity Chef Speaker Jason would be feature on his own pre-paid MasterCard for sale on Card.com.
Chef Jason graduated Newbury College's Culinary Arts Program at the age of only 19. His first job was at Tremont 647 under owner Andy Husband. It wasn't long after starting in the kitchen there that Jason advanced to executive chef. After 6 short years Jason moved on to become the executive chef of Gargoyles on the Square in 2005. It was there that Chef Jason really found himself and gained valuable knowledge as a restaurateur!
Chef Jason's technical skills have earned him a heralded reputation in the foodie world. He landed the cover of the Food Section in The Boston Globe because of his unique fusions of bistro style cooking with bizarre ingredients. Chef Jason has made regular appearances on The Talk, The Early Show and CBS This Morning. Simply Wonderful Chefs featured Chef Jason in their POM Chefs Series in 2014. To find out this celebrity chefs appearance fees contact Celebrity Chef Network today!
Chef Jason went on to open Blue Inc., his first restaurant all on his own. Soon after he open 2 more restaurants in the Boston district. Abby Lane Food & Spirits is a family focused restaurant that's keen on great service for all. Back Bay Harry's is the heart of Boston and set for a younger hip crowd. When he is not working with his restaurants, Chef Jason makes frequent personal appearances at food & wine festivals across the U.S. each year.