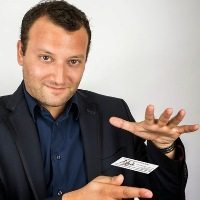 Josh Beckerman
Does Virtual Events:
TV Show: No
Cookbook: No
Restaurant: No
Cuisine: Celebrities in Food
Fee Range: $10,000 – $20,000

Instrgram Followers: 50,553

TikTok Followers:
Biography:
Foodie Magician Josh Beckerman is a one of a kind celebrity personality who has paved his own unique lane in the culinary industry. He combines magic and entertainment to create a memorable performance for all his guests at his many celebrity chef appearances and celebrity chef speaking engagements around the country each year. He is one of very few Celebrity Chef Speakers who combines an element of entertainment in his performance other than cooking demonstrations.
Foodie Magician Josh Beckerman is just a regular guy with a passion for food and fun. When he's not performing at corporate conferences and special events, Josh is out on the town. He spends most of his down time exploring new menu options at local NYC hot spots all the while pulling cards and tricks with those in attendance. He has formed a bond with many of the top celebrity chefs in the area including Josh Capon, Marc Forgione and Jeremy Spector. Josh has quite the bag of tricks that stem from levitating cards and money to reading minds and guessing the correct chef or restaurant in your head. His act continues to grow!
His popularity in the culinary industry has led to a number of celebrity chef appearances on daytime talk shows and late night specials. Josh has appeared on shows including the Today Show, Late Night With Seth Meyers and the Rachael Ray Show. In addition to celebrity chef speaking and entertaining, Foodie Magician Josh Beckerman is also the engine behind the food blog NYCFoodie. His blog covers a variety of topics surrounding the food and restaurants that make up the exquisite NYC foodie scene.
Contact Celebrity Chef Network today to hire Foodie Magician Josh Beckerman for celebrity chef speaking or event hosting at your upcoming corporate conference, trade show event or fundraiser.