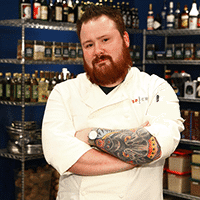 Kevin Gillespie
Does Virtual Events:
TV Show: Yes
Cookbook: Yes
Restaurant: Yes
Cuisine: American, Organic
Fee Range: $10,000 – $20,000

Instrgram Followers:

TikTok Followers:
Biography:
Hire Kevin Gillespie through Celebrity Chef Network. Booking a celebrity chef requires an expert team. Let the booking agents at Celebrity Chef Network help you hire the best one for your brand or event. To contact Celebrity Chef Network, call 212-410-9879 or email booking@celebritychefnetwork.com.
SHOWS: Top Chef
CHARITIES: Slow Food Atlanta, Southern Food Ways Alliance, Chefs Collaborative and the Society for the Preservation of Traditional Southern Barbecue
BIO: Celebrity Chef Kevin Gillespie is a food enthusiastic in every sense of the word. He is passionate about serving his customers quality food each and every day, and is committed to using fresh, organic, sustainable ingredients in all of his dishes. He had quickly risen through the culinary ranks to become the executive chef and partner of Woodfire Grill in Atlanta, GA.
Kevin Gillespie, an Atlanta native, started his culinary education at the Art Institute of Atlanta. Here, he balanced a full course load with part-time duties at various restaurants. Upon graduating with honors, Gillespie held positions including chef de partie at Atlanta Grill at The Ritz-Carlton, sous chef at TWO Urban Licks and chef de cusine at Woodfire Grill. In 2006, Gillespie left Atlanta and headed to Portland, OR to work as executive sous chef at Fife Restaurant. However, after a year and a half, Gillespie missed the South too much and came back to work at Woodfire Grill.
In summer 2008, Nicolas Quinones and Bernard Moussa of Five Senes Restaurants, LLC purchased Woodfire Grill and made Kevin Gillespie the new executive chef. In early 2009, Gillespie joined the two men as a partner of the restaurant. Also, in 2009, Gillespie was chosen to participate on Bravo's sixth season of Top Chef. On the show, Gillespie was voted as the "fan favorite," made his mark by winning several "Quickfire" and "Elimination Challenges" and finished as one of the seasons top three finalists.
Gillespie is a rising star in the culinary world and has been named on of Mother Nature Network's top (40 Chefs Under 40." In his free time, he enjoys camping, playing music and barbecuing. Celebrity Chef Kevin Gillespie is available for speaking engagements, endorsements, and cooking demonstrations.
BOOKS: Two books are in the works with best-selling cookbook author David Joachim (release date fall 2012, fall 2013)
WHO REPRESENTS KEVIN GILLESPIE: Celebrity Chef Kevin Gillespie can be hired for endorsements and events in roles such as culinary consultant, event planner, public speaker, autograph signings, cooking demonstrations, hosting, Mommy Blogger events, SMTS, public relation campaigns, team building events and corporate hospitality.
To hire Kevin Gillespie for an endorsement, personal appearances, or book signing contact the experts at Celebrity Chef Network at booking@celebritychefnetwork.com  or 212-410-9879.