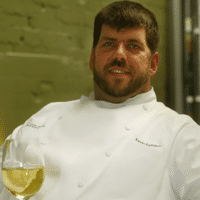 Kevin Rathbun
Does Virtual Events:
TV Show: No
Cookbook: No
Restaurant: Yes
Cuisine: American
Fee Range: $20,000 – $50,000

Instrgram Followers:

TikTok Followers:
Biography:
Celebrity chef Kevin Rathbun owns some of the hottest restaurants in the country. But before he became a renowned chef, Rathbun worked as a dishwasher at the restaurant Sambo's in Kansas City. Working his way through restaurants and up the ranks, Rathbun became a Chef at Baby Routh in Dallas, a DiRona award-winning restaurant. His display of culinary expertise at Baby Routh led him to become the chef at Nava, a hip restaurant in Atlanta where Chef Rathbun brought Southwestern cuisine to the Deep South. It didn't take long for Nava to become a hit both locally and nationally. Next up for Chef Rathbun was opening his own restaurant.  In 2004 he opened his namesake restaurant Rathbun's featuring a wide variety of Modern American cuisine.  The restaurant was a huge success and garnered accolades from Esquire Magazine, Travel & Leisure, USA Today, Bon Appetit, and Southern Living, to name a few. Then, after being inspired by a trip to Spain, he decided to open a wine and tapas bar, and with that the Krog Bar was born. Following suite of Rathbun's, Krog Bar earned awards from every major foodie news source.  Chef Rathbun continued his restaurant success when he opened up one of the Top Steakhouses in America, Kevin Rathbun Steak.  Only using local produce, organic meats, and heritage bred animals, Kevin Rathbun Steak has been featured on the Today Show, The Early Show, Iron Chef America, and Good Morning America for its delicious eats and widespread popularity. As a result of his achievements, Chef Rathbun has enjoyed getting to work alongside some of the biggest names in the culinary and restaurateur business, such as Bradley Ogden, Emeril Lagasse, Stephen Pyles, Ella Brennan and Pano Karratossos. Chef Rathbun has also been featured on Iron Chef America for the Iron Chef Elk cook-off where he and his brother Kent defeated Bobby Flay to claim the title.
Outisde of his culinary endeavors Chef Kevin Rathbun enjoys reading cookbooks, dining out, fine cigars, restaurant designing, and of course spending time with his wife, Melissa.  He also enjoys philanthropy and contributes to many charities including the Atlanta Community Food Bank, the Live Foundation, the Leukemia Foundation, the Slow Food Movement, the American Cancer Society, and many more.
Cooking demonstrations, endorsements, personal appearances, PR campaigns, speaking engagements, hire, book, we represent, contact, find celebrities, chefs and agents for Kevin Rathbun. If you want to find the representation, PR firm, marketing company, corporate consulting, speaking agent, to book or hire Kevin Rathbun, Celebrity Chef Network is the agency of corporate consulting for your program. Our booking agents are the best in the business for consulting companies, agencies and universities in finding fees, availability and interest for celebrity chefs like Kevin Rathbun for any type of event, appearance, speaking engagement, endorsement, corporate event, motivational speech, PR campaigns, etc. Call Celebrity Chef Network at 212-410-9879 or email booking@celebritychefnetwork.com.  Our booking agents are here to help you hire your Celebrity Chef now.