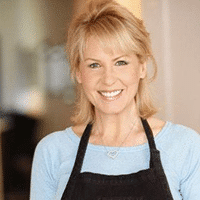 Lauren Groveman
Does Virtual Events:
TV Show: Yes
Cookbook: Yes
Restaurant: No
Cuisine: American
Fee Range: Under $10,000

Instrgram Followers:

TikTok Followers:
Biography:
Hire Lauren Groveman through Celebrity Chef Network. Booking a celebrity chef requires an expert team. Let the booking agents at Celebrity Chef Network help you hire the best one for your brand or event. To contact Celebrity Chef Network, call 212-410-9879 or email booking@celebritychefnetwork.com.
NETWORKS: cbs, hgtv, nbc, pbs, discovery, food network
SHOWS: home cooking with lauren groveman, welcome to lauren groveman's kitchen, baking made easy with lauren
CHARITIES: cook for the cure
BIO:  Lauren is an internationally known cooking and baking instructor, offering non-vocational (hands-on and demonstration) cooking and baking classes to men, women and teenagers. Classes are given in Lauren's home-based cooking school and in various culinary facilities throughout the US. These classes also focus on cross-cultural cooking, teaching American cuisine to different nationalities and demographic groups, including male and female inmates on Rikers Island.
President and Founder of Hands-On-Food, Inc. a not-for-profit organization, devoted to helping people of different demographic groups to live a healthier, more fulfilling and more productive life. The underlying philosophy uses the wholesome art of cooking as the catalyst for positive change. One group H.O.F. has been dedicated to helping is the adolescent female inmates on Rikers Island, where 10 years ago, H.O.F built a teaching kitchen located in the high school facility within this correctional institution. For an entire decade, Lauren partnered with the Board of Education of New York and would guest teach monthly cooking classes and supply the tools and ingredients needed to enable the program, which provided two, back to back cooking classes each day, to happen. Though the building for the high school as recently changed and the program, which is now funded by the Board of Education, the program on Rikers, started by Lauren and H.O.F, is still going strong. This past February, Lauren created a new culinary/self-mastery program at The Brooklyn Residential Center, in Brooklyn, NY, a residence where female juvenile delinquents (age 13 to 18) have been remanded for 3 months to 1 year. After gathering many best-quality tools, cookware and appliances, she began teaching weekly cooking/baking classes and handed out her first certificates of completion to these students, in June 2010. In addition to creating and helping to subsidize the daily cooking program located in the prison, H.O.F. has provided preventative (educational) programs for young men and women recently released from Rikers, as well as programs for lower-income districts in and around the New York area. These programs focus on teaching parents and kid's ways to use the kitchen as a place, and cooking as an easily accessible "at-home" activity, to foster a consistent source of physical fortification and emotional closeness within a family. She was the radio host of an hour long, "live" weekly talk-show "Food, Family & Home "Matters," with Lauren Groveman.
APPEARANCES: live with regis and kelly, the today show, living it up with jack and kelly, home matters
ENDORSEMENTS: all-clad metal crafters, procter and gamble's bounty, thermador, cutco cutlery, kitchenaid, hellmann's, bestfoods salad dressings, jet-dry, french's, joy dishwashing liquid, us tuna foundation
BOOKS: Nuturing Food for Family and Friends, The I Love to cook book
WHO REPRESENTS LAUREN GROVEMAN: Celebrity Chef Lauren Groveman can be hired for endorsements and events in roles such as culinary consultant, event planner, public speaker, autograph signings, cooking demonstrations, hosting, Mommy Blogger events, SMTS, public relation campaigns, team building events and corporate hospitality.
To hire Lauren Groveman for an endorsement, personal appearances, or book signing contact the experts at Celebrity Chef Network at booking@celebritychefnetwork.com  or 212-410-9879.