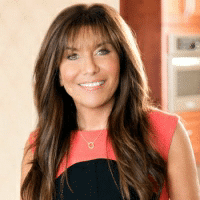 Lisa Lillien
Does Virtual Events:
TV Show: Yes
Cookbook: Yes
Restaurant: No
Cuisine: Healthy
Fee Range: $20,000 – $50,000

Instrgram Followers:

TikTok Followers:
Biography:
Lisa Lillien (a.k.a. Hungry Girl) has turned her appetite for better-for-you food finds, recipes, and swaps into a multimedia phenomenon. She currently runs and operates her own website, hungry-girl.com, which is a weight-loss and nutrition hub for women everywhere looking to live a healthier lifestyle. Lisa's realistic approach to eating has shown hungry people everywhere that they can eat the foods they crave and still fit into their favorite jeans. Lisa is not a nutritionist, a dietitian, or a doctor; She's just hungry.
After working with Nickelodeon and Warner Bros., what began as an e-mail chain with friends and family blossomed into a nationally recognized website that serves as an inspiration to many women looking to better their diet. Lisa's website acts as a free daily email service featuring daily tips and tricks about healthier eating and currently hosts more than 1.2 million subscribers. While working with her Hungry Girl franchise, Lisa also writes a weekly column for weightwatchers.com sharing her latest food finds. Her work is regularly featured in other print and TV news sources including Yahoo, Seventeen magazine, and both the Rachael Ray Show and Good Morning America.
Lisa is also a New York Times Best Selling author after publishing 14 different works sharing her health tips, recipes, and stories. Her latest work Hungry Girl 200 Under 200 Desserts, was published in May of 2013 and featured 200 delectable desserts under 200 calories. The enormity and popularity of the Hungry Girl diet helped Lisa earn her own show on both the Cooking Channel and the Food Network. Her show is a hodgepodge of all her Hungry Girl tips and finds, recipes, and survival guides on how to deal with the world's most tempting foods. Lisa covers it all from girl's night, movie night, and date night to popular holiday favorites. Lisa defines herself as a "foodologist," and the typical woman battling to eat what they want while maintaining their physique.
To hire Lisa Lillien for an endorsement, personal appearances, or book signing contact the experts at Celebrity Chef Network at booking@celebritychefnetwork.com  or 212-410-9879.