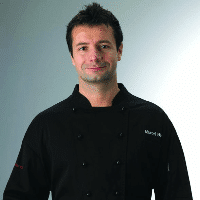 Marcel Biro
Does Virtual Events:
TV Show: Yes
Cookbook: Yes
Restaurant: Yes
Cuisine: Classical French
Fee Range: $20,000 – $50,000

Instrgram Followers:

TikTok Followers:
Biography:
German born celebrity chef, Marcel Biró, began his journey to become a world famous chef at the age of six when he began cooking with his chef father. At the age of 15 he entered culinary school, and at the age of 21 he was a European certified chef instructor. Chef Biró continued to speed through the ranks teaching culinary classes during the day and cooking at Michelin star restaurants at night, and by the age of 24, he set a new standard becoming the youngest chef in history to receive the title Master Chef de Cuisine. Prior to receiving the esteemed title, he had already enjoyed serving as chef to German Chancellor Helmut Kohl; however, the best was still yet to come for the young culinary talent.  In 2004, he became the first German to land a national television cooking show deal in the United States.  Chef Biró stars in the Emmy Award-wining PBS series with his wife Shannon Kring Biró, who is also a writer and executive producer for the show, which chronicles Chef Biró's unique infusion of European and Asian flavors in his culinary masterpieces.  On top of his acclaimed television series, Biró is has co-authored cookbooks Biró: European-Inspired Cuisine, and Ó: SpanAsian Cuisine by Biró, and has been featured in several other media outlets throughout the world including NPR, SmartMoney Magazine, TV Guide, and The Wall Street Journal.  Marcel is also a successful entrepreneur, and serves as the CEO and chef of Biró Internationale, LLC, a company he runs with his wife Shannon, consisting of acclaimed restaurants, culinary schools, and how-to media content. With the company, Chef Biró has had the privilege of working with leading restaurants in Germany, Austria, France, Lichtenstein, Italy, Switzerland, and Spain, as well as help open restaurants for clients in 34 states and 13 countries.  Outside of cooking and Biró Internationale, LLC, both Marcel and his wife Shannon frequently serve as keynote speakers at events throughout Europe, Asia and the US.
Cooking demonstrations, endorsements, personal appearances, PR campaigns, speaking engagements, hire, book, we represent, contact, find celebrities, chefs and agents for Marcel Biro. If you want to find the representation, PR firm, marketing company, corporate consulting, speaking agent, to book or hire Marcel Biro, Celebrity Chef Network is the agency of corporate consulting for your program. Our booking agents are the best in the business for consulting companies, agencies and universities in finding fees, availability and interest for celebrity chefs like Marcel Biro for any type of event, appearance, speaking engagement, endorsement, corporate event, motivational speech, PR campaigns, etc. Call Celebrity Chef Network at 212-410-9879 or email booking@celebritychefnetwork.com.  Our booking agents are here to help you hire your Celebrity Chef now.