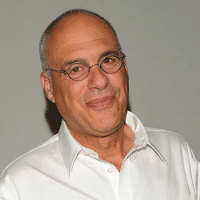 Mark Bittman
Does Virtual Events:
TV Show: Yes
Cookbook: Yes
Restaurant: No
Cuisine: Writer/Blogger
Fee Range: $20,000 – $50,000

Instrgram Followers:

TikTok Followers:
Biography:
Mark Bittman, a food and cooking writer with three books including the James Beard award winning tome, Cooking at Home with a Four Star Chef, has built a reputation as the celebrity chef's writer.  A regular contributor to the New York Times, Bittman has written some of the most noted stories about food and American's ever changing palates.
In 2008, Bittman was hired/booked to do a PBS series with iconic Iron Chef Mario Batali and Hollywood superstar Gwyneth Paltrow called Spain…On the Road Again.  This "buddy" show across Spain was steeped in culinary delight for those who have always day dreamed yet never embarked on a journey centered on food and culture.  Mark Bittman has appeared on NBC's The Today Show, NPR's All Things Considered and a guest judge on Food Network's Chopped series which also features Amanda Freitag, Iron Chefs Geoffrey Zakarian and Alexandra Guarnaschelli, Aaron Sanchez and Scott Conant to name a few.
As a New York Times bestselling author, Bittman has written about various topics, many of them including recipes from his friends in the industry, ranging from up and coming celebrity chefs to iconic culinary giants. With a focus on what is the current state of American's diets, Bittman has taken on health conditions such as diabetes through his writings. As a marathoner and skilled licensed pilot, Mark Bittman lives the life of a swashbuckling journalist who forever sees the work through his eye and his stomach.
Cooking demonstrations, endorsements, personal appearances, PR campaigns, speaking engagements, hire, book, we represent, contact, find celebrities, chefs and agents for Mark Bittman. If you want to find the representation, PR firm, marketing company, corporate consulting, speaking agent, to book or hire Mark Bittman, Celebrity Chef Network is the agency of corporate consulting for your program. Our booking agents are the best in the business for consulting companies, agencies and universities in finding fees, availability and interest for celebrity chefs like Mark Bittman for any type of event, appearance, speaking engagement, endorsement, corporate event, motivational speech, PR campaigns, etc. Call Celebrity Chef Network at 212-410-9879 or email booking@celebritychefnetwork.com.  Our booking agents are here to help you hire your Celebrity Chef now.