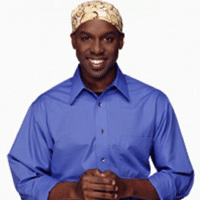 Marvin Woods
Does Virtual Events:
TV Show: Yes
Cookbook: Yes
Restaurant: Yes
Cuisine: Healthy, Southern
Fee Range: $20,000 – $50,000

Instrgram Followers:

TikTok Followers:
Biography:
Hire Marvin Woods through Celebrity Chef Network. Booking a celebrity chef requires an expert team. Let the booking agents at Celebrity Chef Network help you hire the best one for your brand or event. To contact Celebrity Chef Network, call 212-410-9879 or email booking@celebritychefnetwork.com.
NETWORKS: Turner South
SHOWS: Home Plate
CHARITIES: American Heart Association
BIO: As an Emmy Award nominated television host, chef and author Marvin Woods, is best well known for his signature bandana and his take on the food rooted in northern Africa, South American the Caribbean and the United States Low Country. His cooking has been featured in O Magazine, Food & Wine, Southern Living and many more.
Alongside Michelle Obama and the Let's Move! initiative, Marvin Woods was chosen as the first chef to kick off the Let's Move! cooking series where he helped families create nutritious and affordable meals. Droppin' Knowledge with Chef Marvin Woods is his program to help educated and motivate kids and parents to eat right and stay healthy while fighting childhood obesity.
Marvin Woods is the executive chef and partner of a new fast-casual restaurant called FunXion in Washington, DC. With a menu serving American favorites like pizza, tacos and burgers, Marvin adds a healthy twist by using at least one Superfood ingredient. All foods are made without any oil, grain of salt or added sugar. His philosophy is that food can be prepared in a whole and healthy way without the sacrifice of enjoyment and flavor.
Marvin Woods loves to do guest appearances and cooking demonstrations and has been featured as a celebrity chef at The Pillsbury Bake Off, the Miami Wine & Food Festival, and Charlotte Shout and has been a judge for the nationwide Southern Living Cook Off.
As the host of Home Plate on the Turner South network for 4 seasons, he attracted more than 7.2 million viewers until the network was acquired by Fox Sports. This show was the inspiration of Marvin's second cookbook, Home Plate Cooking. Currently, he is working on a line of spice blends and sauces, travels the country with the American Heart Association and other health oriented organizations. Marvin Woods is available for speaking engagements, corporate appearances and cooking demonstrations.
APPEARANCES: CBS, Discovery Network, Lifetime
BOOKS: Home Plate Cooking, The New Low Country
WHO REPRESENTS MARVIN WOODS: Celebrity Chef Marvin Woods can be hired for endorsements and events in roles such as culinary consultant, event planner, public speaker, autograph signings, cooking demonstrations, hosting, Mommy Blogger events, SMTS, public relation campaigns, team building events and corporate hospitality.
To hire Marvin Woods for an endorsement, personal appearances, or book signing contact the experts at Celebrity Chef Network at booking@celebritychefnetwork.com  or 212-410-9879.