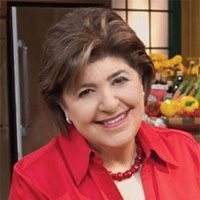 Mary Ann Esposito
Does Virtual Events:
TV Show: Yes
Cookbook: Yes
Restaurant: No
Cuisine: Italian
Fee Range: $10,000 – $20,000

Instrgram Followers:

TikTok Followers:
Biography:
Ciao! Hire Mary Ann Esposito to provide a cooking demonstration at your next trade show, conference or event. Over the last 3 decades, Celebrity Chef Mary Ann has become one of TV's most recognizable Celebrity Chefs specializing in Italian cuisine. Her show, Ciao Italia with Mary Ann Esposito, first hit the airwaves in 1989 and is currently the longest running cooking program in America. Take that Rachael Ray! When you consider the magnitude of the Celebrity Chef space and how many celebrity personalities now have food shows, you could say Mary Ann was the pioneer that showed these chefs how to keep their audiences coming back for more.
Celebrity Chef Mary Ann is a true example of tradition Italian cooking. She has shared her cooking methods with many through her TV series as well as her 12 cookbooks, the latest published in 2011 titled Cia Italia Family Classics. Over her career as a Celebrity Chef, Mary Ann has been called upon to make Celebrity Chef appearances on major TV talk shows and programs including The Today Show, the Discovery Channel and Food Network.
Mary Ann also travels the country providing cooking demonstrations at trade shows and food festivals. In 2015, Mary Ann made hosting a grand tasting at the first annual Savor: A Celebration of Wine, Food & Spirits with fellow Celebrity Chefs Robert Irvine and Ming Tsai. Celebrity Chef Network can help your business or organization Hire Mary Ann Esposito for events such as this or other types of Celebrity Chef appearances. She is a great personality in the industry who understands the ways that cooking can enhance your life and nurture relationships with family and friends.
If you're looking to hire a proven culinary artist, hire Mary Ann Esposito to take your upcoming event to the next level with her fine Italian cuisine!