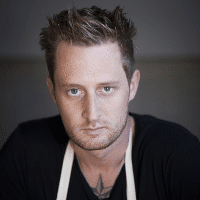 Michael Voltaggio
Does Virtual Events:
TV Show: No
Cookbook: Yes
Restaurant: Yes
Cuisine: American
Fee Range: $10,000 – $20,000

Instrgram Followers:

TikTok Followers:
Biography:
Michael Voltaggio is an American chef who won season six of Bravo's hit cooking series Top Chef. Celebrity Chef Michael has made appearances on multiple seasons of Top Chef as a guest diner and judge after he won the show in 2009. His older brother and fellow celebrity chef Bryan Voltaggio also competed in season four of Top Chef and came in second to his creative little brother. The brothers went on to publish their own family cookbook featuring recipes, pictures and stories from the kitchen titled Volt ink. They also displayed their unique cooking skills in an hour-long special on the Cooking Channel titled Voltaggio's Take On: Thanksgiving. Food & Wine magazine recently named Michael one of the Best New Chefs of 2013.
Celebrity Chef Voltaggio has been mentored by multiple celebrity chefs throughout his culinary career including Chef Charlie Palmer, master chef Jose Andres, and Chef Arnaud Berthelier. Chef Michael also has worked at multiple restaurants over his career including his position as Chef de Cuisine of The Dining Room in Langham Huntington Hotel & Spa when they won multiple awards including the AAA Find Dining Award, Mobil Five-Star Award and a Michelin star. The Dining Room is one of only a handful of restaurants in the United States to receive a Michelin star.
Chef Michael's latest endeavor has been the opening of his two restaurants ink. and ink. sack, both are located in Los Angeles, California. He built and opened the sandwich shop ink. sack first, while ink. was in production and not many people knew he was going to open two eateries. Both are now a large success and provide great modern cuisine to the West Hollywood area.
Cooking demonstrations, endorsements, personal appearances, PR campaigns, speaking engagements, hire, book, we represent, contact, find celebrities, chefs and agents for Michael Voltaggio. If you want to find the representation, PR firm, marketing company, corporate consulting, speaking agent, to book or hire Michael Voltaggio, Celebrity Chef Network is the agency of corporate consulting for your program. Our booking agents are the best in the business for consulting companies, agencies and universities in finding fees, availability and interest for celebrity chefs like Michael Voltaggio for any type of event, appearance, speaking engagement, endorsement, corporate event, motivational speech, PR campaigns, etc. Call Celebrity Chef Network at 212-410-9879 or email booking@celebritychefnetwork.com.  Our booking agents are here to help you hire your Celebrity Chef now.