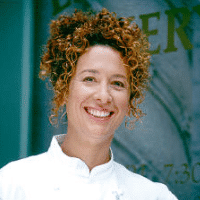 Nancy Silverton
Does Virtual Events:
TV Show: No
Cookbook: Yes
Restaurant: Yes
Cuisine: Desserts and Pastry, Italian
Fee Range: $20,000 – $50,000

Instrgram Followers:

TikTok Followers:
Biography:
Celebrity chef speaker, Nancy Silverton, is an accomplished chef and baker, most known for her popular bakery and various restaurants in Los Angeles.  Nancy Silverton is the co-founder and head baker at Lea Brea bakery, one of America's largest sellers of fresh bread. She was also head pastry chef at the now closed Campanile Restaurant. Along with Le Brea bakery, she owns two restaurants with fellow celebrity chef Mario batali, Pizzeria Mozza and Osteria Mozza. Pizzeria Mozza has since earned many accolades for its artisan-style pizzas.  In 2011 she opened an upscale hamburger restaurant, with the late renowned chef Amy pressman, called Short Order at the Original Farmers Market in Los Angeles.
In addition to her restaurants, Nancy Silverton is also the author of several cookbooks including Breads from the La Brea bakery, Nancy Silverton's Pastries from the La Brea bakery, Nancy Silverton's sandwich Book: The Best Sandwiches Ever–from Thursday Nights at Campanille, and The Mozza Cookbook.
Nancy Silverton has also made several television appearances on popular shows including Top Chef, and Today, and was featured as a guest judge in the show Hell's Kitchen and Rachael vs. Guy: Celebrity Cook-Off.
Nancy Silverton has been the recipient of several awards as a result of her success in the kitchen.  In 2006 the LA Times included her in The West 100: The most influential people in Southern California. She has also received the 2005 WCR Golden Bowl Award, which recognizes excellence in baking and pastry arts, the 2004 International Star Diamond Award for Outstanding Hospitality, the 2003 RCA Pioneer Award, and the 2001 James Beard Outstanding Restaurant Award. To expand on this list even more, she was named food artisan by Bon Appetite Best of Food & Entertaining, 50 New Taste Makers by Nation's Restaurant news, Best New Chefs by Food & Wine magazine, and One of the Best 10 Pastry Chefs of the Year by Chocolatier Magazine in 1995. Her cookbooks have also been nominated for several awards such as the Julia Childs Cookbook Awards, and James Beard Best Cookbook of the Year.
Cooking demonstrations, endorsements, personal appearances, PR campaigns, speaking engagements, hire, book, we represent, contact, find celebrities, chefs and agents for Nancy Silverton. If you want to find the representation, PR firm, marketing company, corporate consulting, speaking agent, to book or hire Nancy Silverton, Celebrity Chef Network is the agency of corporate consulting for your program. Our booking agents are the best in the business for consulting companies, agencies and universities in finding fees, availability and interest for celebrity chefs like Nancy Silverton for any type of event, appearance, speaking engagement, endorsement, corporate event, motivational speech, PR campaigns, etc. Call Celebrity Chef Network at 212-410-9879 or email booking@celebritychefnetwork.com.  Our booking agents are here to help you hire your Celebrity Chef now.