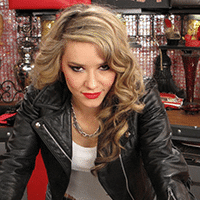 Nadia Giosia
Does Virtual Events:
TV Show: Yes
Cookbook: Yes
Restaurant: No
Cuisine: Healthy, Italian
Fee Range: $20,000 – $50,000

Instrgram Followers:

TikTok Followers:
Biography:
There's a reason Nadia Giosia is called the "Julia Child of the Net generation," and it has everything to do with her spunk, humor, and cooking skills. Celebrity Chef Speaker Nadia started off posting videos on Youtube and running a boutique web design and branding studio, but she decided to take it to the next level by adding in a key ingredient, and of course it was food. Concentrating on organic, fresh, and readily available ingredients with a pinch of her Italian heritage thrown in, Nadia's initial Cooking Channel series, Bitchin' Kitchen, which aired in the United States, Canada, and the United Kingdom, followed by her latest show Bite This with Nadia G, has made this Italian girl into a cooking sensation. In 2009, she released her first cookbook, The Bitchin' Kitchen Cookbook: Rock Your Kitchen and Let the Boys Clean Up the Mess, which went on to become a bestseller.
Nadia is no amateur to television; in 2011, she was featured on an episode of Bizarre Foods with Andrew Zimmern. The following year, she competed with Michael Symon on Iron Chef America, going up against famed chefs Ted Allen, Masaharu Morimoto, and Robert Irvine in a special Holiday Gingerbread battle. In 2013, Nadia competed on Food Network's wildly popular series Chopped All Stars in the show's third season.
This hip, comedic, and fun loving chef likes to play up dishes, ranging from the classics and comforts to new combinations, with recipes like Tiramisu Cupcakes, Meatloaf with Awesome Sauce, Penne Algio-Olio-Anything, and Red-Hot Chili. Her philosophy in the kitchen, and in life, is to be a go-getter and just try for it, because eventually you will get the hang of it. One thing is for sure, and that is no matter what she is cooking up, Nadia is wildly entertaining and does it in style.
Cooking demonstrations, endorsements, personal appearances, PR campaigns, speaking engagements, hire, book, we represent, contact, find celebrities, chefs and agents for Nadia Giosia. If you want to find the representation, PR firm, marketing company, corporate consulting, speaking agent, to book or hire Nadia Giosia, Celebrity Chef Network is the agency of corporate consulting for your program. Our booking agents are the best in the business for consulting companies, agencies and universities in finding fees, availability and interest for celebrity chefs like Nadia Giosia for any type of event, appearance, speaking engagement, endorsement, corporate event, motivational speech, PR campaigns, etc. Call Celebrity Chef Network at 212-410-9879 or email booking@celebritychefnetwork.com.  Our booking agents are here to help you hire your Celebrity Chef now.