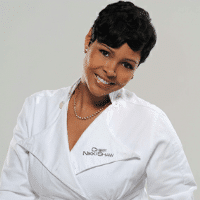 Nikki Shaw
Does Virtual Events:
TV Show: No
Cookbook: No
Restaurant: No
Cuisine: Healthy
Fee Range: $10,000 – $20,000

Instrgram Followers:

TikTok Followers:
Biography:
Celebrity Chef Speaker Nikki Shaw is dedicated to cooking healthful food and combatting childhood obesity. In her words, you either "pay now or pay later," and diabetes and heart disease are the price of eating fast food. The advocate for reshaping the palates of the African-American community leads by example by preparing healthful meals for her own family, citing changing her husband, former professional basketball player and current coach of the Denver Nuggets, Brian Shaw's diet as her biggest challenge. Nikki has taken her mission public as the spokesperson for the California Department of Public Health's Network for a Healthy California & Champions for Change. She also represents First 5 California, providing cooking demonstrations and public service announcements about the importance of healthy eating and an active lifestyle for both organizations. Additionally, she is a featured chef for numerous national brands and companies such as the Anthem, Kaiser Permanente, the American Heart Association and the American Diabetes Association. She champions her cause across multiple platforms; she also serves as an online chef for Kraft Foods and an expert contributor to MomLogic.com by Warner Brothers.
Nikki made her first television appearance on the popular show the Next Food Network Star, where she was a finalist in its third season. Soon after Nikki was featured as a guest chef on Jamie Foxx's From G's to Gents as well as VH1's popular series Basketball Wives. A basketball wife herself, Nikki took part in the NBA Cares campaign, offering her healthful recipes and lifestyle tips to the league's biggest teams such as the Los Angeles Lakers and the Indiana Pacers. When Nikki isn't in the kitchen or with her husband and two children, you can tune into her daily radio show called Today's Flavor, which streams in New York.
Cooking demonstrations, endorsements, personal appearances, PR campaigns, speaking engagements, hire, book, we represent, contact, find celebrities, chefs and agents for Nikki Shaw. If you want to find the representation, PR firm, marketing company, corporate consulting, speaking agent, to book or hire Nikki Shaw, Celebrity Chef Network is the agency of corporate consulting for your program. Our booking agents are the best in the business for consulting companies, agencies and universities in finding fees, availability and interest for celebrity chefs like Nikki Shaw for any type of event, appearance, speaking engagement, endorsement, corporate event, motivational speech, PR campaigns, etc. Call Celebrity Chef Network at 212-410-9879 or email booking@celebritychefnetwork.com.  Our booking agents are here to help you hire your Celebrity Chef now.