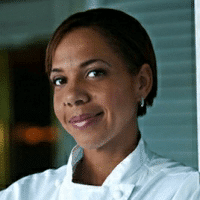 Nina Compton
Does Virtual Events:
TV Show: No
Cookbook: No
Restaurant: No
Cuisine: Classical French, Italian
Fee Range: $10,000 – $20,000

Instrgram Followers:

TikTok Followers:
Biography:
Celebrity Chef Nina Compton, the self-proclaimed "gnocchi queen," broke into the culinary world following her runner-up performance on the 11th season of Bravo's kitchen reality show, Top Chef which aired in late 2013 into 2014. Nina dazzled familiar judges Tom Colicchio, Padma Lakshmi and their fellow judges with her mixture of French, Caribbean, and Italian cuisines, and her inevitable charm led her to become the season's fan favorite.
Nina started her cooking career after graduating from the Culinary Institute of America in 2001. From there, Nina went on to work under renowned chefs Daniel Boulud and Alex Lee at their contemporary French restaurant in New York City, Daniel. The restaurant is one of only 7 restaurants in NYC that boast 3 stars from the revered Michelin Guide.
After moving to Miami, Nina gained even more experience serving under Floridian master chefs Norman van Aken and Phillippe Ruiz. Later, Nina accepted a sous chef position at Casa Casuarina, a boutique hotel in Miami Beach. In 2008, esteemed chef Scott Conant realized Nina's potential and offered her an executive chef position at his classy Italian eatery, Scarpetta. Currently, Nina continues to serve at Scarpetta and always tries to enjoy her time spent in the kitchen, for the moment if nothing else. Nina always makes sure to keep Maldon salt, olive oil, and calabrese chilis on hand when she's cooking.
In the summer of 2014, Nina was invited to participate in the celebrity chef cruise circuit, Top Chef at Sea. Nina will be aboard the Celebrity Solstice with fellow up-and-coming cheftestants Brooke Williamson, Tiffani Faison, and Paul Qui headed towards Alaska on the 15th of August. She hopes to one day be able to return to her home in Saint Lucia and provide other aspiring chefs more learning opportunities in the form of cooking demos and a full-blown culinary school. Given her enormous success on Top Chef the future does seem bright for this up and coming celebrity chef.
Cooking demonstrations, endorsements, personal appearances, PR campaigns, speaking engagements, hire, book, we represent, contact, find celebrities, chefs and agents for Nina Compton. If you want to find the representation, PR firm, marketing company, corporate consulting, speaking agent, to book or hire Nina Compton, Celebrity Chef Network is the agency of corporate consulting for your program. Our booking agents are the best in the business for consulting companies, agencies and universities in finding fees, availability and interest for celebrity chefs like Nina Compton for any type of event, appearance, speaking engagement, endorsement, corporate event, motivational speech, PR campaigns, etc. Call Celebrity Chef Network at 212-410-9879 or email booking@celebritychefnetwork.com.  Our booking agents are here to help you hire your Celebrity Chef now.