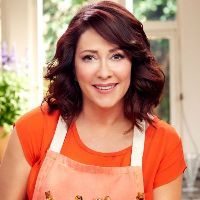 Patricia Heaton
Does Virtual Events:
TV Show: Yes
Cookbook: No
Restaurant: No
Cuisine: American, Celebrities in Food
Fee Range: $20,000 – $50,000

Instrgram Followers: 3,654

TikTok Followers:
Biography:
Award-winning actress, producer and Celebrity Chef Patricia Heaton is most famous for her role as Debra Barone on the CBS sitcom Everybody Loves Raymond. After enjoying a lengthy career in major TV and film roles, Patricia charted a new course as a featured celebrity chef on the Food Network. Patricia now hosts her own network cooking series called Patricia Heaton Parties. The show takes audiences inside her own kitchen as she prepares her favorite party recipes with former co-stars, friends and family! Her recipe repertoire includes items such as Cleveland stuffed potatoes and hot leek dip to hearty dishes like her classic Shepherd's Pie.
A mother of 4, family has always been a driving factor for Patricia throughout her career as an actress and TV personality. Everybody Loves Raymond spanned at total of 8 seasons from 1996-2005, garnering 15 total Primetime Emmy Awards over the years. Patricia won 2 individual Emmy Awards for Outstanding Lead Actress in a Comedy Series in 2000 and 2001. She currently stars as Frankie Heck in ABC's The Middle in addition to filming new episodes of her cooking series. Patricia Heaton Parties season 2 is set to premiere in the spring of 2016.
Before joining the culinary industry, Celebrity Chef Patricia Heaton published a book titled Motherhood & Hollywood: How To Get A Job Like Mine. This witty collections of essays covered topics such as being a parent, juggling work and home life, success and fame. She may be one of the biggest names in show biz, but she can relate to mothers all over the world! She is an active advocate supporting pro-life groups and has served as honorary chair of the Feminists for Life organization.
Contact Celebrity Chef Network today to discuss hiring Celebrity Chef Patricia Heaton to make a celebrity chef appearance at your upcoming trade show, conference or special event.