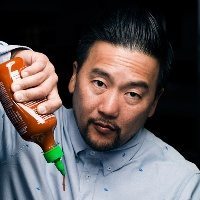 Roy Choi
Does Virtual Events:
TV Show: No
Cookbook: Yes
Restaurant: Yes
Cuisine: American, Asian
Fee Range: $20,000 – $50,000

Instrgram Followers:

TikTok Followers:
Biography:
Best known as the Godfather of the food truck movement, Celebrity Chef and author Roy Choi made the decision to leave behind fine dining and reinvent street food along the way. Because of his unique taste palate and knack for creating a fusion of Mexican and Korean flavors, Chef Choi revolutionized the way we view street food around the world today thanks to his success with the acclaimed Kogi Truck.
In Jon Favreau's new film Chef, a lot of the credit goes to the truck pioneer Celebrity Chef Roy. In order to prepare for the movie, Roy sent Jon to a French culinary school and then trained him in several of his restaurants. The film is not just about life, but how food moves people. In addition to the movie, Roy and Jon recently announced they have plans to use the film as inspiration for a restaurant.
Chef Choi gained experience as a hotel chef working for Hilton Hotels and eventually got a promotion at the Beverly Hilton, which was the chains flagship. He also worked at Embassy Suites in Lake Tahoe, California as well as the Rock Sugar Pan Asian Kitchen in Los Angeles. With this pedigree, it didn't seem likely that Roy would opt for a career selling tacos on the street corner, but this daring move was immediately garnered with praise and attention from the public and food press. Because of this, he was named one of Food & Wine's "Best New Chefs" of 2010.
Roy devotes his spare time to volunteering at A Place Called Home in South Central Los Angeles where he inspires underprivileged children to open their own local food-based businesses by teaching them simple cooking techniques.
In just a few short years, Roy went from slinging tacos on the streets to establishing restaurants around the city of Los Angeles, writing a memoir-cookbook, as well as changing the way many American's consume their lunch.