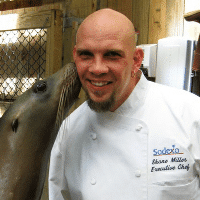 Shane Miller
Does Virtual Events:
TV Show:
Cookbook:
Restaurant:
Cuisine: TexMex
Fee Range: $10,000 – $20,000

Instrgram Followers:

TikTok Followers:
Biography:
Celebrity Chef Shane Miller is best known for winning Guy Fieri's reality television show, Guy's Grocery Games. When Chef Miller isn't off winning challenging game shows, he can be found at his day job as the executive chef for Sodexo's Leisure Division. Chef Shane Miller spends his days constantly brainstorming and creating new, tasty, menu items like wood-fired pizzas, and Korean beef street tacos, for clients such as Space Center Houston, and the Houston Zoo.  In addition to working as a chef for Sodexo, The Louisiana native, who now resides in Houston, has also spent time in New Orleans working with celebrity chef John Besh, which gave him a leg up on the competition in Guy's Grocery Games when he had to make Jambalaya from a shopping list of specific ingredients.  As soon as Miller heard about opportunity to participate in the game show, which combines Supermarket Sweep with Food Network's Chopped, he knew he'd be the perfect candidate. With his diverse cooking experience, working in every culinary genre from deep southern cooking to Tex-Mex, Shane was able to stay ahead of the competition. When given the first challenge to make a meal out of only canned goods and a fresh herb, he created an authentic Minestrone soup. When told to create the ultimate hot dog in the second challenge, he used his Texas roots to create a classic Texas-style chili cheese char dog with twice-fried home fries. To seal the deal in the last challenge, he used his experience in New Orleans to make the game winning Jambalaya. Next up on Chef Miller's agenda is acting as a mentor to contestants in the Mars Food Competition at the Houston Space Center. Additionally, he plans to spend time traveling the country with his wife, who has recently retired from the military.
Cooking demonstrations, endorsements, personal appearances, PR campaigns, speaking engagements, hire, book, we represent, contact, find celebrities, chefs and agents for Shane Miller. If you want to find the representation, PR firm, marketing company, corporate consulting, speaking agent, to book or hire Shane Miller, Celebrity Chef Network is the agency of corporate consulting for your program. Our booking agents are the best in the business for consulting companies, agencies and universities in finding fees, availability and interest for celebrity chefs like Shane Miller for any type of event, appearance, speaking engagement, endorsement, corporate event, motivational speech, PR campaigns, etc. Call Celebrity Chef Network at 212-410-9879 or email booking@celebritychefnetwork.com.  Our booking agents are here to help you hire your Celebrity Chef now.