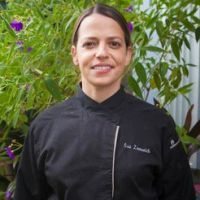 Sue Zemanick
Does Virtual Events:
TV Show: Yes
Cookbook: No
Restaurant: No
Cuisine: American
Fee Range: $10,000 – $20,000

Instrgram Followers: 777

TikTok Followers:
Biography:
Celebrity Chef Sue Zemanick is a top culinary talent based in Louisiana. She is currently the executive chef of Gautreau's Restaurant located in uptown New Orleans. She also oversees the food for Ivy, a private event space also located in the heart of uptown. In 2014, Chef Sue received the James Beard Award for Best Chef South, earning her a new title as one of the best Celebrity Chefs in the country. In October of 2015, she was named a featured judge for season 3 of Esquire Network's hit cooking competition series Knife Fight.
Chef Sue attended the Culinary Institute of America and worked as a chef-instructor for the school's seafood program after graduation. In 2003, Sue wanted to put her years of practice to use and moved to New Orleans. She got her start in the kitchen at the local favorite Commander's Place before joining the staff at Gautreau's. It didn't take long for the culinary world to take notice of her impressive skills in the kitchen. In 2008, Celebrity Chef Sue Zemanick was named one of the Top 10 Best New Chefs by Food & Wine magazine. She was also nominated as a James Beard Award finalist for Rising Star Chef every year from 2009-2012.
As she continued to build her career in the industry, Chef Sue has made a number of celebrity chef appearances on several cooking competition series including Bravo's Top Chef Masters season 3 in 2011 and returning for season 5 in 2013. That same year she also appeared as a guest judge on Top Chef New Orleans. When it comes to the best eats in the south, Chef Sue's modern American cuisine has helped to shape the culinary landscape of New Orleans as we know it.
Contact Celebrity Chef Network today to book Celebrity Chef Sue Zemanick to make a celebrity chef appearance at your upcoming corporate event, trade show or fundraiser.