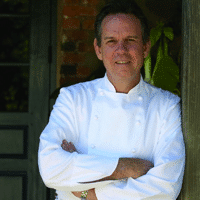 Thomas Keller
Does Virtual Events:
TV Show: Yes
Cookbook: Yes
Restaurant: Yes
Cuisine: Classical French
Fee Range: $20,000 – $50,000

Instrgram Followers:

TikTok Followers:
Biography:
Chef Thomas Keller is one of the best French chefs in the United States. Thomas worked under the instruction of Rolan Henin, a Master Chef who helped him learn the ropes of French cooking.
Many would say that Thomas Keller's career really took off when he opened the legendary restaurant The French Laundry in Yountville, California for which he has earned countless awards, including a five star rating by Mobil Guide, three Michelin stars, and making the Restaurant Magazine's annual list of the Top 50 Restaurants in the World every year since it opened. As his career progressed, Keller went on to open five more award winning restaurants with locations in California, Las Vegas, and New York City.
Keller has written many cookbooks as well, including his first book, "The French Laundry Cookbook", based off his experiences with the restaurant, which also won a 'laundry' list of awards. His following publications continued to turn heads, including the heads of those in the film industry. Keller has worked on the movie "Spanglish" where he taught Adam Sandler to cook the world's "greatest sandwich". Thomas Keller's most recent cookbook, Ad hoc at Home, which features family-style recipes, earned him a place on the New York Times Best Sellers list for six weeks.
As one of the most decorated Celebrity Chefs, Thomas Keller's tributes include being named "America's Best Chef" by TIME Magazine, winning James Beard Foundation's "Best Chef" award, and the title of Bon Appétit Magazine's "Chef of the Year", among many others.
Cooking demonstrations, endorsements, personal appearances, PR campaigns, speaking engagements, hire, book, we represent, contact, find celebrities, chefs and agents for Thomas Keller. If you want to find the representation, PR firm, marketing company, corporate consulting, speaking agent, to book or hire Thomas Keller, Celebrity Chef Network is the agency of corporate consulting for your program. Our booking agents are the best in the business for consulting companies, agencies and universities in finding fees, availability and interest for celebrity chefs like Thomas Keller for any type of event, appearance, speaking engagement, endorsement, corporate event, motivational speech, PR campaigns, etc. Call Celebrity Chef Network at 212-410-9879 or email booking@celebritychefnetwork.com. Our booking agents are here to help you hire your Celebrity Chef now.