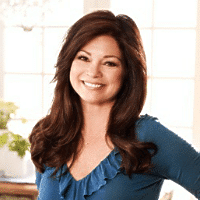 Valerie Bertinelli
Does Virtual Events:
TV Show: Yes
Cookbook: Yes
Restaurant: No
Cuisine: American, Healthy, Italian
Fee Range: $50,000 – $100,000

Instrgram Followers:

TikTok Followers:
Biography:
Valerie Bertinelli is an actress and TV personality best known for her role in the hit CBS sitcom One Day at a Time. The actress has starred in over 30 TV shows and movies including the series Café America, Touched by an Angel, and her newest TV series on TV Land called Hot in Cleveland. Aside from her success in acting, Valerie has become a bestselling author and created her own line of self-titled cookware which features utensils, dishes and other kitchen ware. In 2014, Valerie combined her love for the TV set and cooking and was chosen to host her own cooking show on Food Network titled The Valerie Bertinelli Project. The show features Valerie and her husband preparing family recipes for their friends, family, and celebrity neighbors. Valerie has always loved cooking and was a longtime fan of the TV show Iron Chef before she was invited by host and long time friend Alton Brown to be a judge for the Battle of Oktoberfest in 2013.
While off the movie and TV set, she has worked with JC Penney and Jenny Craig as a spokesperson and brand ambassador in print and TV advertisement campaigns. Her work with Jenny Craig included helping lead the annual American Heart Association's Wall Street Heart Walk in support of healthy living and weight loss. While encouraging many people across the country to live a healthier lifestyle, the walk also recognizes 30 Jenny Craig clients who recently reached their weight loss goals.
Valerie has published 2 New York Times Bestselling books, first her auto-biography titled Losing It which detailed her life as a teen star and living on the road with first husband Eddie Van Halen of the legendary rock band of his namesake. The following memoir titled Finding It gave the public a look into her new life as a single mother and trying to maintain her weight and finding faith in a higher power.
She has also recorded her family recipes in a cookbook titled One Dish at a Time which also released as an e-book with video commentary. To Valerie, cooking is about family time. Spending time with each other and helping to prepare the dish is how she was raised and believes family meals should always be prepared in this way.
Cooking demonstrations, endorsements, personal appearances, PR campaigns, speaking engagements, hire, book, we represent, contact, find celebrities, chefs and agents for Valerie Bertinelli. If you want to find the representation, PR firm, marketing company, corporate consulting, speaking agent, to book or hire Valerie Bertinelli, Celebrity Chef Network is the agency of corporate consulting for your program. Our booking agents are the best in the business for consulting companies, agencies and universities in finding fees, availability and interest for celebrity chefs like Valerie Bertinelli for any type of event, appearance, speaking engagement, endorsement, corporate event, motivational speech, PR campaigns, etc. Call Celebrity Chef Network at 212-410-9879 or email booking@celebritychefnetwork.com.  Our booking agents are here to help you hire your Celebrity Chef now.