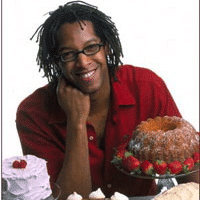 Warren Brown
Does Virtual Events:
TV Show: Yes
Cookbook: Yes
Restaurant: Yes
Cuisine: Desserts and Pastry
Fee Range: $20,000 – $50,000

Instrgram Followers:

TikTok Followers:
Biography:
Once Chef Warren Brown realized his love for cakes, he left his career as a lawyer to pursue his aspirations of becoming a baker.  Using his entrepreneurial spirit and background in business, Celebrity Chef Warren Brown started off as a small local business owner and achieved global fame by turning his passion for baking into a profitable business enterprise. He founded CakeLove bakery in 2002 and Love Café in 2003 and now owns seven bakeries in the Washington, DC metropolitan area.
Warren Brown has been endorsed by Dell and American Express and featured in their national advertising campaigns. He was featured in Dell's Take Your Own Path campaign as well as American Express's advertising campaign The Small Business Owner Anthem.
Brown has received a lot of recognition for his inspirational success, from being chosen as one of small business magazine Inc.'s 26 Most Fascinating Entrepreneurs in 2005 to appearing in People Magazine's 50 Most Eligible Bachelors of America in 2001.
Chef Warren Brown was previously booked and hired to host the television show Sugar Rush on the Food Network, home of iconic franchises such as Iron Chef America, Cupcake Wars, and Paula's Best Dishes which feature other celebrity chefs such as Bobby Flay, Rachael Ray, Giada De Laurentiis, Ted Allen and Paula Deen.
He has also been recognized by many different local and national media outlets.  He has been booked by television shows like The Oprah Winfrey Show, the Today Show, CNN and Dateline, has been featured in magazines and newspapers such as the Washington Post, the Washington Times and Southern Living, and has made radio appearances on radio shows like the Martha Stewart Living Today show.
Cooking demonstrations, endorsements, personal appearances, PR campaigns, speaking engagements, hire, book, we represent, contact, find celebrities, chefs and agents for Warren Brown. If you want to find the representation, PR firm, marketing company, corporate consulting, speaking agent, to book or hire Warren Brown, Celebrity Chef Network is the agency of corporate consulting for your program. Our booking agents are the best in the business for consulting companies, agencies and universities in finding fees, availability and interest for celebrity chefs like Warren Brown for any type of event, appearance, speaking engagement, endorsement, corporate event, motivational speech, PR campaigns, etc. Call Celebrity Chef Network at 212-410-9879 or email booking@celebritychefnetwork.com.  Our booking agents are here to help you hire your Celebrity Chef now.