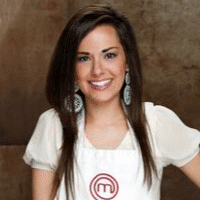 Whitney Miller
Does Virtual Events:
TV Show: No
Cookbook: Yes
Restaurant: No
Cuisine: Southern
Fee Range: $20,000 – $50,000

Instrgram Followers:

TikTok Followers:
Biography:
After all three MasterChef judges named Whitney Miller the contestant to beat, it was no surprise when Celebrity Chef Speaker Whitney took home the MasterChef title at the end of the first season. After becoming the first winner of the Fox cooking show, Whitney's MasterChef cookbook Modern Hospitality: Simple Recipes with Southern Charm was released in July 2011. Nicknamed the Pastry Princess by judge Joe Bastianich, who judged the competition along with Gordon Ramsey and Graham Elliot, the show's youngest contestant showed an affinity for desserts early on. After growing up in the kitchen alongside her mother, sisters, and grandmother, whipping up dishes for large Sunday dinners, Whitney now enjoys preparing the same Southern favorites from her childhood, but with a healthy twist. People, Southern Living, Cooking Light, and Clean Eating have all published her tasty recipes, and Whitney has contributed as a food writer to Taste of Home, Flavors (Atlanta), and Southern Living.
Whitney's delectable Southern cuisine has satisfied the stomachs of notable celebrities like Bubba Watson, Rascal Flatts, Tim Tebow, and Duck Dynasty's Willie and Jep Robertson; she has also cooked beside food experts Cake Boss Buddy Valastro, Paula Deen, Guy Fieri and Curtis Stone. The Pastry Princess is intimately involved with the community and multiple charities; she has partnered with Panera Bread as a featured food expert, as well as with the Mississippi Girl Scouts of America, the American Heart Assoication, and the Mississippi Muscular Sclerosis Society.
After surviving week after week without being eliminated by the MasterChef panel of judges, Whitney now acts as a celebrity judge for several cooking events and contests, from Memphis Cupcake Camp Competition and the B.I.O. Special Events Wedding Cake Competition with Duff Goldman to the 2014 World Food Championship. Recently Whitney served as the opening night chef at the 2013 Chefdance, which is a part of the Sundance Film Festival. Her second cookbook is currently in the works. Whitney is also a Christian.
Cooking demonstrations, endorsements, personal appearances, PR campaigns, speaking engagements, hire, book, we represent, contact, find celebrities, chefs and agents for Whitney Miller. If you want to find the representation, PR firm, marketing company, corporate consulting, speaking agent, to book or hire Whitney Miller, Celebrity Chef Network is the agency of corporate consulting for your program. Our booking agents are the best in the business for consulting companies, agencies and universities in finding fees, availability and interest for celebrity chefs like Whitney Miller for any type of event, appearance, speaking engagement, endorsement, corporate event, motivational speech, PR campaigns, etc. Call Celebrity Chef Network at 212-410-9879 or email booking@celebritychefnetwork.com.  Our booking agents are here to help you hire your Celebrity Chef now.