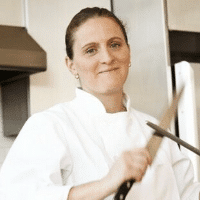 April Bloomfield
Does Virtual Events:
TV Show: No
Cookbook: Yes
Restaurant: Yes
Cuisine: American, Mexican
Fee Range: $10,000 – $20,000

Instrgram Followers:

TikTok Followers:
Biography:
Chef April Bloomfield has become one of the top chefs in America, most famous for winning two Michelin stars for her restaurants in New York City, The Spotted Pig and The Breslin. But before this celebrity chef speaker became known in the U.S., she got her start cooking overseas, in her home country of England.  Her first big gig was cooking for royalty at Kensington Palace.  She then went on to work at Bibendum, which is considered one of the finest restaurants in London.  After success at Kensington and Bibendum, she moved on to the River Café where she worked under renowned chefs Ruth Rogers and Rose Gray, which she credits to much of her culinary success later in life. It was during her time at The River Café that she was scouted by American Chef Mario Batali.  Looking for an experienced chef to open a bistro-style restaurant in New York City, Chef Batali gave Bloomfield the job, and she moved to the Big Apple in the fall of 2003 where she opened her first restaurant, The Spotted Pig.  The restaurant took off, quickly building a reputation for its fine eats.  Just two years after opening, the bistro won a Michelin Star, one of the highest honors in the culinary industry. This achievement made Bloomfield one of ten female chefs in the United States to ever win a Michelin Star. Chef Bloomfield then opened her second restaurant in New York, located in the Ace Hotel, called The Breslin. This restaurant did not fall short of expectations, as it followed in the footsteps of The Spotted Pig, winning a Michelin Star.  Celebrity chef speaker April Bloomfield is also known by many for defeating the famed Chef Michael Symon in Iron Chef America, in which she also set a record for achieving the highest score of any single challenger in the history of the show.
Cooking demonstrations, endorsements, personal appearances, PR campaigns, speaking engagements, hire, book, we represent, contact, find celebrities, chefs and agents for April Bloomfield. If you want to find the representation, PR firm, marketing company, corporate consulting, speaking agent, to book or hire April Bloomfield, Celebrity Chef Network is the agency of corporate consulting for your program. Our booking agents are the best in the business for consulting companies, agencies and universities in finding fees, availability and interest for celebrity chefs like April Bloomfield for any type of event, appearance, speaking engagement, endorsement, corporate event, motivational speech, PR campaigns, etc. Call Celebrity Chef Network at 212-410-9879 or email booking@celebritychefnetwork.com.  Our booking agents are here to help you hire your Celebrity Chef now.