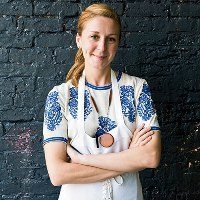 Christina Tosi
Does Virtual Events:
TV Show: No
Cookbook: Yes
Restaurant: Yes
Cuisine: Desserts and Pastry
Fee Range: $10,000 – $20,000

Instrgram Followers:

TikTok Followers:
Biography:
Ever heard of a milk bar? If you haven't, let Pastry Chef Speaker Christina Tosi tell you all about it! The co-owner and head chef of Momofuku Milk Bar based in New York with a location in Toronto has blessed the surrounding communities with some of the best pastries and desserts on the block! It is thanks to her great skill as a pastry chef that the restaurant has received 2 coveted Michelin stars. In January of 2015, Christina replaced Joe Bastianich as a Celebrity Chef Judge for the new Master Chef and Master Chef Junior TV series moving forward.
Just a few years ago Chef Christina was nominated for and won the James Beard Foundation Award as Rising Star Chef of the Year in 2012 and she has not let us down. Christina started out in college to become an electrical engineer but was automatically drawn to New York. Once there she became enticed with food and pastry. After several hostessing jobs, Christina landed a job as a pastry chef at WD-50. Funny enough, after that she took an office job from David Chang, creator of the Momofuku group, and only baked from home. One time David asked her to bring in a dessert for his restaurant Ssam Bar and it was a match made in heaven.
Her love of kooky desserts such as Crack Pie and cereal milk-flavored ice cream took America by storm. In 2011, Chef Christina put out a signature Milk Bar cookbook filled with tons of amazing recipes from the popular restaurant for the whole family to enjoy. In 2014, she was a finalist for the Outstanding Pastry James Beard award for rising star chefs. Chef Christian also has a new cookbook being published entitled Milk Bar Life: Recipes and Stories set to release in April of 2015.