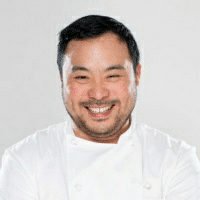 David Chang
Does Virtual Events:
TV Show: No
Cookbook: Yes
Restaurant: Yes
Cuisine: Asian
Fee Range: $20,000 – $50,000

Instrgram Followers:

TikTok Followers:
Biography:
David Chang is one of the premier young American Chefs taking on the international food market.  Chang has become a household name in the food industry over the last decade and his outspoken personality has given him much publicity.  It came as somewhat of a surprise to David himself because cooking became his fallback after graduating college without a definite plan.  Ultimately Chang decided to attend culinary school, which eventually paved the way for a career in the kitchen.
Chef Speaker David is best known for his incredibly successful Momofuku Restaurant group.  The first establishment of his esteemed group was founded in 2004 under the name Momofuku Noodle Bar.  It was located in the East Village of Manhattan and offered ramen based noodle cuisine.  The restaurant became a huge success in the city, prompting Chang to open up a Momofuke Ssäm in 2006 and Momofuku Ko in 2008.  Both restaurants earned overwhelmingly positive critiques.  Momofuku Ssäm has been ranked in the World's 50 Best Restaurants from 2009-2012.  Momofuku Ko eventually would move into the old Noodle Bar location, and Noodle Bar relocated a few blocks down the street.  The restaurant conglomerate now has over 12 separate locations and recently expanded into foreign markets in Australia and Canada.
Beyond his restaurant chain Chang has produced two cookbooks; Momofuku Cookbook and Momofuku Milk Bar Cookbook.  He's also spearheaded the creation of Lucky Peach, a quarterly food journal with a differentiating topic in each edition.   David has made multiple appearances on food-centric television programs, and co-launched a PBS program with Anthony Bourdain called The Mind of a Chef.  In 2014 for Shake Shack's 10th Year Anniversary Chang created a specialty shrimp burger, which subsequently caused the longest line at the Madison Square Garden Park Shake Shack in history.  Changs's restaurants have been the recipients of many awards, and Chang himself has won 4 James Beard Awards.
Cooking demonstrations, endorsements, personal appearances, PR campaigns, speaking engagements, hire, book, we represent, contact, find celebrities, chefs and agents for David Chang. If you want to find the representation, PR firm, marketing company, corporate consulting, speaking agent, to book or hire David Chang, Celebrity Chef Network is the agency of corporate consulting for your program. Our booking agents are the best in the business for consulting companies, agencies and universities in finding fees, availability and interest for celebrity chefs like David Chang for any type of event, appearance, speaking engagement, endorsement, corporate event, motivational speech, PR campaigns, etc. Call Celebrity Chef Network at 212-410-9879 or email booking@celebritychefnetwork.com.  Our booking agents are here to help you hire your Celebrity Chef now.